For folks of a certain age, it's been quite the thing to see contemporary horror become something worthy of study, respect and reverence. The classics are another story – time will turn any creative endeavor into a museum piece – but to see the Museum of Modern Art dedicating a day to the works of director Jeff Barnaby (Blood Quantum), or presenting the films of Julia Ducournau (Raw) and Karyn Kusama (Jennifer's Body) to its patrons is something else entirely.
But that's exactly what's happening all summer with Messaging the Monstrous, as the MoMa screens films old and surprisingly new across the genre, curated into thoughtful and at times unexpected categories. It's an affirming thing to see as a horror fan – Deathdream and Friday the 13th Part 2 playing at the Museum of Modern Art is something I never expected in my lifetime – and it's a great, inexpensive way to catch some of the most important horror films ever made on the big screen (e.g., George Romero's zombie trilogy plays this Saturday; heads up that Dawn of the Dead is almost never screened publicly).
The MoMA promises that their 10-week series "will highlight foundational works and key films that capture horror's uncanny ability to embody the lurking fears evoked by evolving social, cultural, and political change in the world. Organized according to fluid themes that shaped how the works were conceived—Slashers, Horror of Place, Gender and Horror, Race and Horror, the Undead, Body Horror, Women Make Horror, Folk Horror, Eco Horror, and Creatures—the series comprises more than 100 features and an international selection of shorts by seasoned masters and important new filmmakers."
FANGORIA was pleased to speak with Ron Magliozzi, Curator of MoMA's Department of Film, and guest curator Caryn Coleman about the Museum's epic screening series. You can find more info as well as ticket links for Messaging the Monstrous here.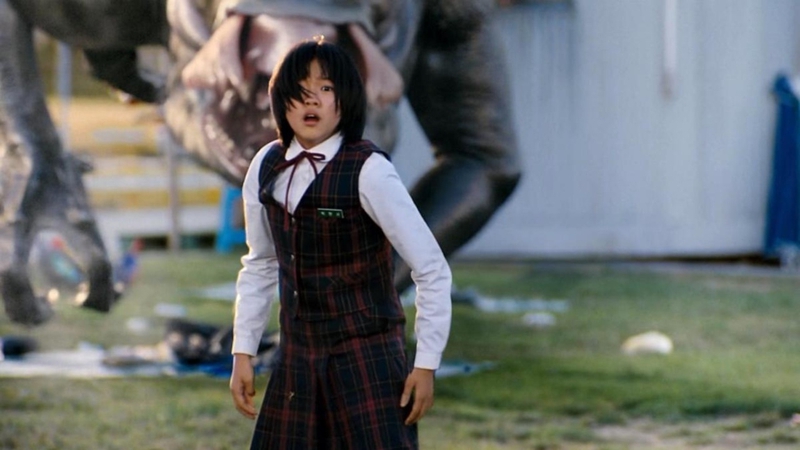 How long has a program like this been in the works? You mentioned in front of the Dawn of the Dead screening that the internal conversation started during the pandemic.
Ron: The series is a direct result of the pandemic lockdown in 2020. Working from home, I was asked to consider organizing an online film lecture for a group of Museum members and, because I happened to be looking at the horror illustration of Harry Clarke and Lee Brown Coye at the time, I proposed a "show and tell" on horror art and the movies. This led to several months of immersive, retrospective horror viewing and the realization – "light dawns on a marble head" as the nuns in school often said to me – that filmmakers had been using the genre to channel anxiety and concerns about the state of the world that their audiences obviously shared. Just so, the thesis for the series was born.
Horror frequently fights for respectability in some mainstream corners; is a program like this a tough sell to the Museum?
Ron: Pleased you've asked this question. Not a bit in fact. Happy to say, the Museum's film curators haven't discriminated against one genre over another. Although its film programs are less often about genre and more often about the work of individual filmmakers, national cinemas, cinema movements, MoMA has done major shows on American and Italian comedies, science fiction, melodrama films and so forth. Horror films are regularly featured in the Film Department's New Directors/New Films and Contenders festival series – to name just a few recently Drag Me to Hell, Get Out, A Girl Walks Home Alone at Night, It Follows, The Witch, Amer, Hereditary, His House, Under the Shadow, Good Manners.
Beyond this, the Museum's permanent film collection includes The Texas Chain Saw Massacre (acquired at the time of its original release), Ganja and Hess, The Velvet Vampire, Terminal Island as well as Night of the Living Dead and Basket Case, both of which it preserved.
The "buckets" you've curated are exciting – gender, location, eco-horror, etc. Can you walk me through how this structure manifested? Did you have the categories first, and then chased the appropriate films, or was it a list of films that you then divvied up into the mini-programs?
Ron: Without a list of titles or structure mind, we began with the notion of looking for horror films that reflected what was going on in the world around us circa 2021, so we did have race and gender, social unrest, random violence, contagion, ecology and the like in mind. Caryn and I met on Zoom weekly for a year discussing what we'd watched the past week, sharing recommendations and opinions. It was a mind-melding collaboration. We initially thought the series might run forty to fifty titles organized chronologically but that was hopelessly limiting, especially as the sub-genres and the different horror audiences that those sub-genres attract became more apparent to us. Once we'd zeroed in on the series' sub-genres, we began messing with the connections between themes and sub-genre in the hopes that our audiences might look at a film they knew in a different way. My personal favorite was putting Hellraiser under "Gender."
Yes; horror fans like their boxes, yet your program surprises in a number of ways (such as your Hellraiser example, putting I Spit on Your Grave and Last House on the Left under "Body Horror," etc.). Talk to me about bending that rigidity somewhat. 
Caryn: We know that our film selections actually fit in more than one of the categories so our intention was to provoke a new way of thinking about these films as well as how the films in that section will be in conversation with each other.
For instance, with having I Spit on Your Grave and Last House on the Left in Body Horror, our idea to explore the body and its boundaries which is integral to horror but, in these films, deals specifically with sexual assault and revenge. What happens when a body is violated? How does it transform the victim and the perpetrator? Additionally, with a film like Burnt Offerings, that could easily be slotted into "Horror of Place" but we made the decision to put it in "Gender" in order to emphasize how the film is about traditional family roles, having a woman sublimated into the home. It was fun for me to challenge expectations of what we know or expect these genre films to be.
When curating a program like this, there are always some expected/obligatory titles; what were the big surprises for you in this lineup?
Caryn: We initially had 500 films in consideration that we had to whittle down and I love that, after some rounds, we made the decision to not include the obvious (Halloween, Texas Chain Saw Massacre, etc). It's not because these films aren't important or don't fit within our theme but, rather, they are easily accessible and already so ingrained into the horror canon. We wanted to focus our curatorial efforts on films that need to be included within a socio-political history of horror, whether big or small. There are obvious inclusions. Wes Craven's Scream had to be because of its importance of being the last post-modern film. And of course Romero. But, less a surprise and more of a delight, I'm very excited to amplify Rhymes for Young Ghouls and Blood Quantum, We Are What We Are, Jack Be Nimble, Tigers Are Not Afraid, and In My Skin; films you don't normally see in a horror lineup but are really integral to when it comes to messaging within horror.
So far, is the series attracting mainly horror crowds, or have you gotten to expose other demographics to the genre? Any notable reactions from getting the "normals" to watch these important works?
Caryn: Audiences are always so important to me when I'm programming, especially horror, and I have found that the crowds for this series are a great mix of horror fans and cinephiles of all ages and genders. Regardless of how familiar they are with the genre, many of the folks attending our screenings are seeing these films for the first time and I love that, given MoMA's platform, that we're able to introduce our new and old favorites to audiences and to create a new conversation. My hope is that it expands people's notions of what a horror film can or should be.
Tell me your "nightmare" story of tracking down a particular film - which title was the big hurdle and why? And what were your big victories in the curation department?
Caryn: One of my victories was being able to get a 35mm print (with English subtitles) of Bruno Forzani & Helene Cattet's film Amer (2009). We worked on it for months and finally secured it; a little last minute than when we scheduled it so now it'll screen towards the end of the series. But this is one of my favorite films and it's been a while since it's screened in the U.S. Another victorious inclusion is a 35mm print of Marina de Van's In My Skin (2002), a rarely seen but very effective inclusion in New French Extremity.
Ron: Securing a print of Cemetery Man was a particular challenge, whereas other titles I'd thought would be difficult, Philip Ridley's The Reflecting Skin (a title recommended to us by Guillermo del Toro) and the just now restored Jack Be Nimble, were relatively easy to locate.
As someone who's been going to rep screening for 30 years, I can tell you that Dawn of the Dead rarely screens publicly; does MoMA tend to open doors that traditional repertory screening venues can't?
Ron: In the case of Dawn of the Dead it certainly made a difference to the distributor that it was being shown in an art museum. Locating prints to screen is a real challenge that puts everyone in more or less the same boat. Anyone holding a decent quality theatrical print these days is protective of what they have and careful about how often they'll lend it to screen. The MoMa's Department of Film does have significant standing in the international film archive community and that has proven beneficial. One of our closing programs is a selection of shorts by the radical Belgian avant-garde filmmaker Roland Lethem which wouldn't be happening without archives in Belgium and Britain.

Your program has a very healthy dose of recent horror, which surprised me a bit. Where did your eye for curation take you in the recent horror space, and why?
Caryn: We are in such a glorious moment for horror films and they're necessary in providing a strong throughline on our theme; they are messaging our current times and it's powerful to have that mirrored back to us…while we're in it. As a film programmer, I'm very invested in new horror films and believe they are essential to this conversation we're igniting. For instance, the "Women Make Horror" section has foundational works (The Mafu Cage and Jennifer's Body) but the focus is on films from 2014 to present in which we see an increase in horror films directed by women. Each film has its own message but, as a whole, we're exploring what happens when women tell their own horror stories. It was actually difficult to stop looking at new films to include (I've tried to sneak a few more in at the last minute) because they are just so amazing.
Could another genre sustain this kind of substantial screening series, and if so, what genre would you want to program at the MoMA next?
Caryn: We're aiming for another round of horror at MoMA (every good horror film needs a sequel). But I think doing a comedy series centered around the same thing - comedy has a message - might be interesting. And wouldn't it be nice to make people laugh?
Messaging the Monstrous runs through September 5th.
Topics: