This is part 2 in our Guide To Hong Kong Category III Shockers series, catch up on part 1 here.
---
"It's true that was a difficult period. But I liked to be the bad guy on duty, there is more possibility with this type of character. When you are nice, you are nice, that's it." –Anthony Wong, in conversation with Fred Sévéon- (1)
"His character carries this feeling that the world owes him something, or that everyone is out to get him, which gives him reason to resist. But that resistance, what he calls resistance, is not resistance at all." –Hong Kong Cult Film Festival co-founder Honkaz Fung, from Vinegar Syndrome's "Unhinged, Deranged…Ebola Turns 25" roundtable discussion (2)
"I don't understand why Europeans like these kinds of movies." –Anthony Wong, talking about Ebola Syndrome and The Untold Story- (3)
There's blood all over Anthony Wong's face minutes after the start of Ebola Syndrome. This gory 1996 true crime shocker begins with a double homicide and ends after Wong's shot and set on fire while he deliberately spreads the titular virus to an unsuspecting Hong Kong. Before then, Ah Kai, Wong's greasy, unrepentant antihero, rapes, murders, and feeds some of his victims to unsuspecting diners at a Johannesburg restaurant.
At the end of Ebola Syndrome's opening scene, a knock-kneed bystander tries to stop Ah Kai before he flees to South Africa. He asks Wong's feral killer what he's done right before Ah Kai can torch a small child that he's already soaked in gasoline.
"Murderin'," Ah Kai snarls. "What?"
Ebola Syndrome didn't make a ton of money when it debuted in Hong Kong. In fact, it only played for about a week in HK theaters and grossed a disappointing $1.5 million HKD (about $2.19 USD today). Scripted by producer Wong Jing and rewritten by director Herman Yau, Ebola Syndrome was based on a series of tabloid-friendly stories about an Ebola outbreak in the Democratic Republic of Congo—specifically Kikwit—from January to June 1995.
Ebola Syndrome was also essentially a remake of The Untold Story, a 1993 Category III shocker based on the real-life 1986 Macanese "pork bun murders" case that left ten people dead and inspired urban legend-style rumors of cannibalism based on the total dismemberment of the victims. Yau directed two narratively unrelated sequels to The Untold Story, the first of which also features Wong, this time as a police inspector who cries for his mother after a homewrecking mainlander (Pauline Suen) threatens to eat him.
The Untold Story was a hit, and in 1994, Wong's live wire performance as the murderous Wong Chi-hang was awarded the Hong Kong Film Award for Best Actor. Wong doesn't seem to care about the recognition though, and has suggested that he only won because of political reasons. (4)
Bear in mind: both The Untold Story and Ebola Syndrome are grisly horror stories about psychopathic loners who murder their bosses, rape their bosses' spouses, dismember their corpses, and either try or succeed in killing children—and also grind some human corpses into hamburger meat and serve their remains as char-siu barbecue pork buns. Both movies are corrosively cynical, particularly in their depiction of the corrupt police officers chasing after Wong. The Untold Story and Ebola Syndrome were both subversive, but within accepted limits, for whatever that's worth.
In The Untold Story, Wong's unlovable protagonist is only legally punished because he tries to claim his dead boss's restaurant, without the property's deed in his name. He's reeled in by producer Danny Lee, who plays a policeman here as well as in several other Hong Kong productions. In this case, Lee plays a corrupt lawman, mostly because he's a Macanese cop, not a Hong Kong policeman. So in The Untold Story, Lee's police chief frequents sex workers and only does his job when there's something in it for him. Lee threatens to sue Chi-hang for control of the HK-based Eight Immortals Restaurant. His fellow officers savagely beat Wong's character once he's in custody; they also unwittingly eat some of Chi-hang's pork buns.
There's more. In an establishing scene, some dismembered body parts wash up on Macau's shores in a canvas bag with a Union Jack flag pattern. Yau delivers grisly, full-throated extremity for its own sake in what he's called a blatant test of what could and couldn't be released under Hong Kong's three-tiered film censorship system. (5) The sexual violence in this movie is not meant to be titillating, nor is the violence played for laughs.
Chi-hang's character tellingly tries to kill himself after he's imprisoned, as a protest against the police brutality he suffers while imprisoned in Macau. Wong's character bites a hole in his wrist, but is stopped in time and then tortured some more by the Macanese authorities. Yau has suggested that Chi-hang represents an anarchic sort of "proletarian revolution": (6) deeply alienated, hatefully selfish, and wantonly empowered.
Ebola Syndrome delivers a lot more of the same, only this time, bad-taste king Wong Jing replaced Danny Lee as the producer. In Ebola Syndrome, Wong's sniffling super-spreader antagonist only contracts the virus after he rapes a convulsing South African victim. Ah Kai's also only caught because he's pursued by Lily (Angel Wong), the daughter of one of Ah Kai's victims—and the young girl he almost torches at the beginning of the movie—who helps nudge HK Sergeant Yeung (Vincent Wan) onto the right path. And Sergeant Yeung does need some nudging, as we see when Ah Kai ducks under a luxury hotel's front desk seconds before Yeung arrives to ask about the killer's whereabouts.
Once Ah Kai returns to Hong Kong, his philandering mistress Har (Marianne Chan) proves to be as thoughtlessly materialistic as he is venal. She daydreams about shopping and maybe relocating to mainland China while he picks his nose and spreads Ebola in outlandish point-of-view shots that bring to mind the 1995 Hollywood retro-viral thriller Outbreak. Ah Kai's only stopped after he's repeatedly shot, soaked in gasoline, and then set ablaze. The movie concludes with a freeze frame of Ah Kai snarling: "Busting my balls?"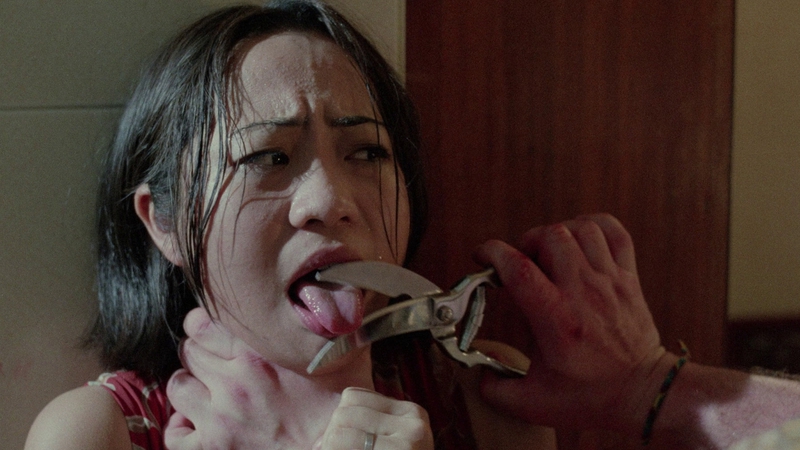 The critical nature of The Untold Story and Ebola Syndrome's explicit violence and bad taste excesses seems clear, and it's partly because of, not despite, their mutually destructive fire-hose aimlessness. "These films have corporeal obsessions that go beyond titillating representations of sexuality," (7) writes HK film expects Darrell W. Davis and Yeh Yueh-Yu about the true crime-style "case file" Category III sub-genre. Davis and Yeh add that Category III movies like The Untold Story and The Untold Story 2 "are literally about objectification, the stages by which living human bodies are turned into[…]inanimate things" (8)
The Untold Story and Ebola Syndrome are also obviously and unashamedly exploitative, which limits their subversive potential. Category III expert Tony Williams argues that "traditions of censorship and self-censorship ensure that the real causes of such cinematic violence remain unexplored; this is the result of a colonial system of government averse to any form of criticism and political opposition." (9) Davis and Yeh agree, and write that these kinds of true crime pot-boilers "are pre-sold, in a way, just as they are pre-censored" since "the bureaucratic, colonial suppression by police and the courts is itself the draw that filmmakers use to attract audiences[…]" (10)
Still, it's easy to see why Wong's iconic performances in The Untold Story and Ebola Syndrome helped those movies stick in viewers' memories. He whines, snarls, and glares at anything he can't kill or own. And despite the broad nature of these performances, Wong's clearly in touch with his characters' psychological hang-ups. His killers are scary because, in their eyes, extreme violence is normal. "When you're mad, you're mad," Wong says of the real killer that only indirectly inspired his The Untold Story performance (Wong claims that he came up with many of his character's tics). (11)
Wong didn't always play the bad guy in Category III movies. He also plays a muckraking journalist in A Lamb In Despair (1999), a credibly snotty prosecuting attorney in Brother of Darkness (1994), and a hilariously unintrospective mark in Erotic Nightmare (1999), the latter of which features a wish-granting genie who tricks Wong's protagonist into forking over his property. Wong even parodies himself and his producers in a cameo appearance as Wong Jing in Viva Erotica (1996) and as a jaded movie projectionist in Raped by An Angel 4: The Rapist's Union (1999); in the latter movie, Wong learns English from watching Category III movies, basic stuff like "Oh yes", "Oh no", and "I'm coming."
Still, Wong's arguably most exciting as a Category III killer, like when he stalks Veronica Ng's handicapped housewife in Three Days of a Blind Girl (1993)—and feeds her dog to her. Wong also stands out in the exceptionally scuzzy Love to Kill (1993), where he plays an impotent rapist who attacks his wife with a beer bottle after showing her his favorite scene from Pumping Iron.
Wong also plays an insatiable sex demon in Erotic Ghost Story II (1991), a role that seems designed for maximum Wong vamping. Who else but Anthony Wong could pull off that Kabuki head-dress, that purple cape, those shoulder pads, that heavy guy-liner, and that dildo tail? Who else would you believe could seduce two women in a deflated red kiddie pool? Wong's a magnetic performer, and he's often most attractive when his characters are irredeemable, depraved, or just plain ugly.
Next time: a rundown of the true-crime Category III sub-genre.
1.Category III: Sexe, Sang, et Politique À Hong Kong. Julien Sévéon. Bazaar & Co, 2008. Page 92.
2. "Unhinged, Deranged…Ebola Turns 25." Booklet essay included with Vinegar Syndrome's Ebola Syndrome blu-ray, 2022.
3. Wong, Anthony and Herman Yau. Audio Commentary. Ebola Syndrome, Vinegar Syndrome, 2022.
4. Wong, Anthony. Audio Commentary. The Untold Story, Unearthed Films, 2020.
5. Yau, Herman. Audio Commentary. The Untold Story, Unearthed Films, 2020.
6. Ebola Syndrome audio commentary.
7. "Warning! Category III: The Other Hong Kong Cinema." Darrell W. Davis and Yeh Yueh-Yu. Film Quarterly, Vol. 54 No. 4 (Summer 2001). University of California Press. Page 19.
8. Ibid.
9. "Hong Kong Social Horror: Tragedy and Farce in Category 3." Tony Williams. Horror International. Wayne State University Press, 2005. Page 206.
10. Davis and Yeh, Page 20.
11. Wong's The Untold Story Audio Commentary.