"Well... we meet again dear reader!" ― The Keeper of the Crypt of Terror [1]
The "portmanteau" blend of horror has remained integral to repackaging penny dreadfuls and campfire origins for decades. These anthologies have evolved on the screen over the years; from Richard Oswald's Eerie Tales (1919) ― German adaptations of Poe and Stevenson ― to the lavish Italian and Japanese productions of Mario Bava's Black Sabbath (1963) and Masaki Kobayashi proto-J-horror Kwaidan (1965). With the likes of Romero [2] and King's collaborative EC homage, Creepshow (1982), ghoulish substitutes have continued to keep the portmanteau alive and prove how heavily influential one particular collection of macabre tales has become.
Inspired by their love of Ealing Studio's early horror anthology Dead of Night (1945), American producers Milton Subotsky and Max Rosenberg had already dabbled with portmanteau horror in their Amicus production, Dr. Terror's House of Horrors (1965). When a couple of EC Comics [3] reprints had been passed onto Subotsky via Creepy editor, Russ Jones, he persuaded his partner Rosenberg to purchase the rights from owner William Gaines [4]. Seeking little financial reward, Gaines was concerned more on a faithful adaptation and only requested final approval on Subotsky's script and, on a humble £170,000 budget, set out to bring an adaptation of the infamous tales to the big screen. Based at Shepperton Studios in England, Subotsky and Rosenberg's Amicus Productions remained active from 1962 to 1977 and, although often compared to Hammer horror, their films were defined through a more modern slant that tended to steer away from the classics; presenting modern (pulp) material often set within a contemporary setting. The transnational approach, in particular, is what made their productions so special; humble British filmmaking that forged their own distinct versions of Tales from the Crypt (1972) and The Vault of Horror (1973).
Two of the segments for Crypt are inspired by the original comics, while the rest were taken from The Vault of Horror and The Haunt of Fear, all of which were published from 1950 to 1955. An overarching plot synonymous with portmanteau horror centers on Ralph Richardson's less ghoulish (more thespian) Crypt Keeper and his guests ― played by a colorful set of distinguished actors; Joan Collins, Ian Hendry, Robin Phillips, Richard Greene, and Nigel Patrick. These guests are, in fact, tourists lost within the catacombs; as they stumble upon their sinister guide, he tells them of their fate. It is here the five tales begin…
"…And All Through the House" is a small present of festive horror in which Joanne Clayton (Collins) kills her husband and attempts to pin the murder on a homicidal maniac dressed as Santa Claus. Of course, when her daughter notices Santa at the door, she lets him in and, well… witnesses a different side to Father Christmas.
"Reflection of Death" presents a morbid affair. Carl Maitland (Hendry) abandons his family for his secretary, leading to the two of them being involved in a car accident. Somehow thrown clear of the wreckage, he makes an effort to hitchhike home and, once he has arrived, notices his wife is already with another man. When he sees his secretary again, she appears to be blind and mentions that he died in a crash two years previously. Glancing at a reflection of himself, he sees the face of his rotting corpse. In what appears to be a premonition, he awakens from his nightmare just as the car crashes.
For most, "Poetic Justice" is the standout segment; a 'heartfelt' (and heartbreaking) tale with Peter Cushing in one of his most memorable performances as the kindly old man Arthur Edward Grimsdyke who is hounded by his malicious middle-class neighbors who drive him towards suicide. Although some of the symbolism is on the nose, Cushing's delivery of the cruel messages he receives are genuinely moving ― no surprise having just lost his wife at the time of filming ― and a complete contrast to his return as the avenging zombie brought so vividly to life by Roy Ashton's makeup effects.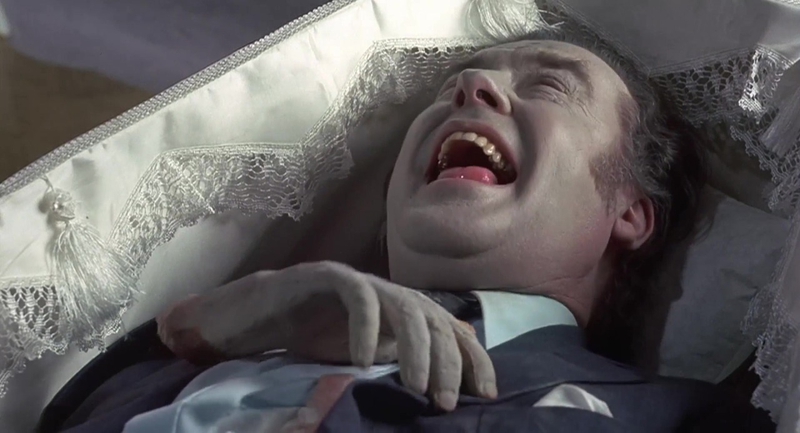 "Wish You Were Here" is often considered the weakest segment ― even Subotsky criticizing it as "badly directed" [5] ― this Monkey's Paw [6] inspired tale suffers from its somewhat convoluted curse. The ruin of businessman Ralph Jason (Greene) leads to the discovery of a Chinese artifact that grants three wishes. Suffice to say fortune, death, regret, and resurrection ensue in a (mostly) forgettable entry.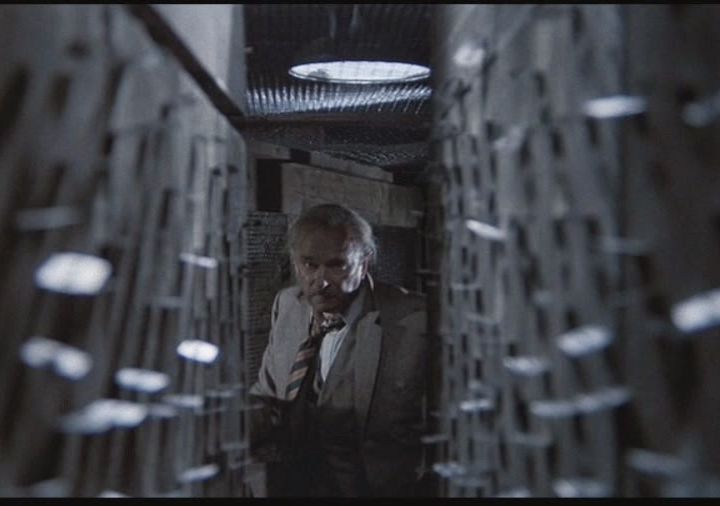 In "Blind Alleys", Major William Rogers (Patrick) exploits his new position as the director of a home for the blind, living in luxury as he cuts back on the residents' heating and provisions. Taking revenge on the Major, one of the residents traps him and his dog in the basement, separating them from one another. After several days, the Major is released into a lethal maze of razorblades before his ravenous canine is then unleashed to finish him off.
Of course, once we reach the "Finale", the Crypt Keeper reveals that the guests are not there to be warned of their fates but have already died. Unrepentant, they witness a door open to Hell. This classic bookend is, of course, echoed in the "Welcome to My Mortuary" [7] ending from the black horror anthology, Tales From the Hood (1995). Here, the eccentric funeral home owner, Mr. Simms (Clarence Williams III), transforms into Satan, his mortuary, the fiery furnace.
As is the nature of anthology-based material, some stories are often not as strong as others and, therefore, lack consistency. Yet, Tales From the Crypt (1972) was still the most successful Amicus production, an ambitious project that became a huge hit, grossing 1.8 million in the US alone. Dusty, rusty and melodramatic, what stands out the most about the film is not so much Freddie Francis' direction but how much the production was enhanced by Norman Warwick's cinematography and Tony Curtis' art direction. Warwick's ripe in-house style had almost become part of British horror's visual vernacular, having already worked on Francis' Torture Garden (1967) ― another Amicus portmanteau ― and collaborating again on Tales That Witness Madness (1973) the following year from World Wide Services. However, it is Francis himself who was a renowned (Oscar-winning) cinematographer, his stunning work on Jack Clayton's The Innocents (1961) and collaborations with David Lynch on The Elephant Man (1980), Dune (1984), and The Straight Story (1999), elevating him above most of his peers.
Often considered one of the greatest cinematographers of all time, his career began after he was assigned to the Army Film and Photographic Unit during WWII. When the war ended, he began working on prestigious Powell and Pressburger productions before he became a director of photography during the mid-'50s. Highly regarded by some of the best in the business, Martin Scorsese ― who hired him to photograph Cape Fear (1991) ― had fallen in love with how Francis captured the classical cinematic style and gothic sensibilities he so often brought to the screen; a keen eye for which his (overlooked) directorial work [8] often lifted the more hokey material. Influenced heavily by John Huston, Michael Powell, and the great (British) cinematographer, Freddie Young ― Lawrence of Arabia (1962) ― his career was founded on the use of black and white imagery. This would explain his use of definition ― his clarity with images ― often remarking how he knew little about the color process, hence how Warwick became the perfect partner on their Amicus collaborations.
Despite not having any particular interest in the horror genre, Francis' output across Hammer and Amicus productions had become somewhat of a forte. His first "stab" at portmanteau horror, Dr. Terror's House of Horrors (1965), shows him on form from the offset. However, his output as a director was often maligned. As with most horror, the visual aspect of these films was what helped levitate them, "these films are 99% visual ... most of the films that I do, these so-called psychological thrillers, depend on the ability to tell one's stories with the camera." [9] But, with horror taken to new heights ― post-Night of the Living Dead (1968) ― a "half-hearted" horror director coupled with disastrous productions, and the change in cinematic appetite during this period, led Francis to reestablish his reputation as a cinematographer.
A distinct and sophisticated impression set within Amicus' Tales From the Crypt ― classical shock tactics, minus the puns ― distinguishes it from the EC material and the HBO TV series (1989-1996) that followed almost twenty years later. Free of censorship and helmed by heavyweights Richard Donner, David Giler, Walter Hill, Joel Silver, and Robert Zemeckis, the weekly episodes reveled in the horror and depravity the original tales offered. But, despite the horrific nature of the material, it is the black humor that has survived over the years, returning to a compendium of fateful frights stitched together by a shoestring budget we still see today.
Recent British horror anthology Ghost Stories (2017) ― co-directed and co-written by Andy Nyman and The League of Gentlemen's, Jeremy Dyson ― is a crucial inheritor of this narrative form. In the flawless British anthology TV series Inside No. 9 (2014-present), a couple more of The League's (Hammer and Amicus obsessives), Reece Shearsmith and Steve Pemberton, play out their twisted tales (of the unexpected), lacing their horror with a mix of poignant drama and heartfelt, cryp[tic] remedies. Then, dressing the portmanteau in a new sense of whimsy, Netflix delivered the animated oddity, The House (2022)…. as though Wes Anderson had stumbled over his very own vault of horror.
The balance of both US and British sensibilities gave Tales from the Crypt its charm and was the perfect counter to Hammer horror; their own output just as much a crucial part of British filmmaking and working-class cinema born out of the post-war period. There is both a distinct look and a distinct history at play ― British taste refusing to succumb to the more nihilistic forms of storytelling in productions overseas during the '70s ― but led by two Americans abroad, Amicus managed to forge something akin to a "United Nations of Horror" with plenty of twisted tales to tell.
1. The Crypt of Terror #17 (April-May 1950). Eventually titled Tales from the Crypt from issue #20 (October-November 1950).
2. George Romero would later produce another (obvious) EC homage, the Tales From the Darkside TV series (1983-1988). A year later HBO release the Tales From the Crypt TV series.
4. At the time no studio owned the rights for any of the EC comic books; Subotsky and Rosenberg negotiated for the individual stories the same way they would have for any other property.
5. According to Jonathan Rigby's book, English Gothic: Classic Horror Cinema 1897-2015 (2015) p. 225, Subotsky even went as far as stating, "I thought the Monkey's Paw segment was dreadful in every way."
6. W. W. Jacobs' 1902 story, The Monkey's Paw was adapted several times in 1933, 1948, and 2013.
7. More of the "morgue tales" in The Mortuary Collection (2019).
8. His final credit as a director happened to be the Tales from the Crypt TV Series episode "Last Respects" (1996).
Topics: