This is the sixth and last installment in our Guide To Hong Kong Category III Shockers series, catch up on parts 1-5 right here.
---
"The filmmakers knew their public and often, those sexploitation films were very conservative: you had sex, yes, but women who indulge in it were considered bad. Therefore, the male audience was satisfied: they could watch erotic movies with their conscience clean." –Hong Kong Category III expert Julien Sévéon (1)
"These stories, unlike porn, are literally about objectification, the stages by which living human bodies are turned into something else: inanimate things that are sectioned into small pieces, consumed by acid, or slowly roasted over an open fire." –Hong Kong film scholars Darrell W. Davis and Yeh Yueh-Yu (2)
"Don't take it off, it's thrilling." –Julie Lee in Trilogy of Lust II (1995), making out with a man in a latex skull mask.
The social imperative of saving face recurs throughout the Category III-rated films produced in Hong Kong in the late 1980s and 1990s. Category III characters—both pro- and antagonists, supporting and major roles, men and women—routinely complain to each other about feeling trapped and thus left without "any face" when confronted with unpleasant or threatening living conditions. This fear of losing face seems especially relevant when considering the subversive potential and political anxieties expressed by Category III movies, many of which were planned and advertised as softcore pornography.
The human faces of the Category III film were often female. Actresses' bodies and expressions were used not only on official—and therefore government-approved—advertising but also regularly featured in the mainland Chinese tabloid papers, in detailed lists of Category III movie highlights, right down to VCD time codes. Some Hong Kong actresses understandably did not enjoy being defined by their producers' grubby demands, but some women became stars of the accommodating umbrella genre anyway.
The concept of saving face is also an implicit theme of true-crime Category III chillers like Daughter of Darkness and Brother of Darkness, both of which star Lily Chung. Chung became a TV star after winning a 1987 beauty contest sponsored by Hong Kong's TVB television station. She went on to star in several Category III-rated movies, some of which were better than others. Chung plays a martyr-like victim in both of those movies, as well as in Red to Kill; in that movie, her disabled heroine gets revenge, but then dies anyway. As you might imagine, Chung's characters were often defined by their sexuality. She plays a Thai witch in the delirious 1995 horror-comedy The Eternal Evil of Asia and a prostitute named Aids in the 1996 sex worker crime drama Sexy and Dangerous (which is somehow Category IIB).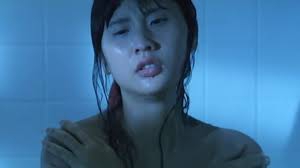 Chung also gets caught between two martial arts instructors in The Rapist Beckons, a pseudo-sensitive cautionary drama from 1992 that revels in the omnipresent threat of sexual violence. In The Rapist Beckons, May (Chung) tries to regain her faith in humanity—and men, in particular—after being sexually assaulted as a child, which requires her to get an abortion. As an adult, May's attacked on the street. Martial arts teachers Sam (Ridley Tsui) and Bing (Karel Wong) rescue May and then look after her. She suffers from post-traumatic stress throughout The Rapist Beckons, despite Sam's frequent reassurances, and is ultimately attacked by Bing while Sam watches from behind a locked door. Sam eventually beats the shit out of Bing, but only after Wong's character delivers on the title's scuzzy promise.
Sex is considerably less terrifying in the Sex and Zen movies, a series of bubbly and formula-friendly period comedies based on Li Yu's The Carnal Prayer Mat, a Ming Dynasty alternative to the Kama Sutra. The first Sex and Zen is a comparatively sober (i.e., less supernatural) response to the otherwise superior Erotic Ghost Story, which grossed $11.29 million HKD (after inflation, about $3.6 million USD) and then begat its own eccentric franchise. The first Sex and Zen movie was an even bigger hit, though ($18.4 million HKD, now about $5.27 million USD) and helped to launch the careers of both of its marquee-topping leading ladies, Amy Yip and Carrie Ng, the former of whom also starred in Erotic Ghost Story.
Yip was and probably still is the most recognizable Category III actress, starring in a variety of movies that further extended her Sex and Zen fame. Yip plays a RoboCop-esque cyborg in Robotrix and a righteous crime boss in Queen of the Underworld, and in both roles, she's sexually assaulted before she inevitably triumphs. Yip also plays a prostitute in China Dolls, a lurid 1992 drama about the harsh life of mainland Chinese sex workers who are preyed on by high-powered traffickers. In some early scenes, women in cages are hosed down and then promised safe passage to South America for just two years of work, which of course, becomes three years of work, then four, and on and on.
Yip's fame eventually grew to the point where she became a self-referential emblem among other Category III movies. She has memorable cameo appearances in Erotic Ghost Story II and The Blue Jean Monster, the Category III-adjacent monster-cop action-comedy (which, again, is somehow only Category IIB). Yip also has a small role as "Chesty" in the haunted jailhouse comedy Jail House Eros. Her character's name draws attention to Yip's famous 36-inch bust, which she supposedly had insured in case of "injury or shrinkage." (3) Yip generally avoided nude scenes—"When people have seen you completely naked, they are not curious about you any more"—and claimed that she was once pressured into a full frontal nude scene by real-life triad gangsters.
In an email interview, Sévéon argues that Yip's refusal to strip in front of a camera is a good part of why she was well-liked by the Hong Kong public. He contrasts Yip with Trilogy of Lust II writer/director/producer/star Julie Lee, who was either vilified or dismissed in the HK press. "Julie Lee was older, didn't mind appearing naked in front of the camera, admitted publicly that she liked having sex, and directed a hardcore film. That was not tolerable for the Hong Kong public and press who started making her life miserable." Sévéon adds that while "Mainland Chinese tend to be more conservative than [Hongkongers]", "many HK citizens had their parents or grand-parents coming from the Mainland."
Carrie Ng also enjoyed a certain notoriety after Sex and Zen and often played villainous, antiheroic, and/or pissed-off women. Ng plays the vampish lesbian rival to Chingmy Yau's neophyte assassin in Naked Killer, Wong Jing's batshit erotic thriller. Ng also stars as the titular gorgon in the IIB-rated Sex Medusa and the snake-obsessed wronged woman in Evil Instinct, a deranged Category III revenge thriller. Ng also sometimes played to generic expectations as a victim. In 1992, the ghost of a rapist possessed Charlie Cho and tried to finish off Ng's love-sick masseuse in Sex and Curse. And in 1993, Alex Fong used black magic to tame Ng in Fatal Seduction, a black magic domestic dramedy.
Later in 1993, Ng also starred in Remains of a Woman, a true-crime shocker that follows the same murder trial as The Final Judgement, starring Cecilia Yip. Ng won the Golden Horse Award for Best Actress for her performance in Remains of a Woman, which remains an unusual recognition for the star of a Category III production.
In Remains of a Woman, Ng plays Judy, the wife of Billy (James Pax), a psychopathic killer who gets sprung from prison after he seduces and wins the endorsement of naïve church girl Annie (Rachel Lee). "Even the church believes I'm innocent," Pax's character boasts, though we know better. In a flashback, we see a coked-up Billy murder a terrified Lisa (Jacqueline Law) by repeatedly slamming her head into his apartment door. Billy then dissolves Lisa's body in a metal trunk full of acid, just like the real killer did. Judy's only relatively innocent—she uses a hacksaw to dismember Lisa's corpse in the bathtub while high on cocaine and mutters to herself that they've got to "dissolve [Lisa's] body." At the end of the movie, Judy remains incarcerated while Billy gets parole. "I have much to regret," Judy confesses. "But when I was with [Billy], I was really happy. I love him so much, I know he loves me too."
Cindy Yip and Yvonne Yung also become Category III icons of sorts. Yip mainly played the demonized "other woman," specializing in prostitutes and gold-diggers, like Anthony Wong's nagging girlfriend in Ebola Syndrome. Yip also plays herself in Come On Girls, a 1993 drama about Hong Kong gigolos. She accidentally screws her husband to death in the first of three horror-themed segments from anthology film My Better Half; naturally, he comes back as a jealous ghost. Yip also haunts My Better Half's third segment, about a paranoid wife Wai Gwan Lee) who kills her husband in a fit of dissociative pique and then cooks his corpse, a la The Untold Story. Lee's character blames Yip for her crimes: "It's not me, it's [Cindy] Yip, the movie star. You love the movie star, Yip. You lie to me."
As for Yung: she starred in three installments of the true-crime ATV anthology series Hong Kong Criminal Archives, including the "Female Butcher" episode that preceded Dr. Lamb. Yung usually played the love object, either a victim, as in "Female Butcher" and Can't Stop My Crazy Love for You, or a mistress, like in both A Chinese Torture Chamber Story and Sex and the Emperor. She's a brothel madam in the surprisingly mild sex worker comedy Ancient Chinese Whorehouse and a target for a group of wasted purse-snatchers in The Spike Drink Gang. Men usually fought over Yung on-screen, and in real life, Hong Kong theatergoers and bootleggers also regularly showed up to pay tribute.
It's hard to imagine how actresses like Young and Yip could make their presence known in a post-handover Hong Kong. The Category III film's heyday coincided with the Hong Kong film industry's last gasp of independence, so now even trend-chasing producers like Wong Jing almost seem quaint. Category III historians sometimes dismiss Wong for merely riding the coattails of other filmmakers, but other, more respectable producers, like Danny Lee and Kimmy Suen, also copied, diluted, and repackaged the last box office hit.
Now, while there are still some Category III-rated films made in Hong Kong, these movies are isolated one-offs, despite some exceptional repeat offenders, like directors Fruit Chan and Edmond Pang. There are no more Category III producers because the HK film industry is unofficially—and maybe soon officially—beholden to mainland Chinese interests.
Still, there were popular, semi-independent, and quasi-mainstream exploitation moguls like Wong Jing in Hong Kong during the late '80s and '90s, and these would-be moguls did produce lurid and now half-remembered works of "porno-violence." Wong also briefly helped to make rape a staple of Hong Kong pop cinema; he was very good at pandering to his audience's neurotic, misdirected anxieties.
In Sévéon's Category III : Sexe, sang et politique à Hong Kong, Wong reveals he originally imagined Naked Killer, one of the most delightfully unhinged Category III movies, as a vehicle for his then-girlfriend Chingmy Yau, stating, "I really wanted to help her in her career." Yau usually played impressionable little sister types, which made her easy prey for an assortment of on-screen predators, as in both Raped by An Angel and Raped By An Angel 4: The Rapist's Union, as well as the deliriously silly Donnie Yen action/horror hybrid Satan Returns (sadly rated Category IIB).
Yau didn't get many opportunities to show, let alone develop, her range as an actor. But she could act, as in the racy costume drama Lover of the Last Empress, produced by Wong and helmed by Raped By An Angel director Andrew Lau, who would later become Infernal Affairs co-director Andrew Lau.
In Lover of the Last Empress, Yau takes Yung's usual role as a concubine who first threatens and soon replaces Valerie Chow's jealous empress (Yung also pops up in a minor supporting role). Lover of the Last Empress was a rare lead role for Yau, one that forced her outside her comfort zone, both in terms of her acting range and, yes, also on-screen nudity. That movie had costumes, gorgeous cinematography, and some production value. There was a budget, is what I'm saying. It's hard to imagine that Yau would have been approached to star in Stanley Kwan's 1998 arthouse drama Hold You Tight were it not for her star turn in Lover of the Last Empress.
In 1999, Yau married fashion tycoon Sham Kar Wai, with whom she had three daughters. She hasn't acted since.
1.Julien Sévéon. Email interview dated August 22, 2022.

2."Warning! Category III: The Other Hong Kong Cinema." Darrell W. Davis and Yeh Yueh-Yu. Film Quarterly. Vol. 54, No. 4 (Summer 2001). Pages 19.

3.Fredric Dannen and Barry Long. Hong Kong Babylon: An Insider's Guide to the Hollywood of the East. Miramax Books, 1997. Page 36.