Holy moly, SXSW is comin in hot with the genre fare. Evil Dead Rise is busting out of the cellar as a headliner, eight Midnighters, and another in the Narrative Feature competition. The full lineup hasn't even been announced just yet, but we've already got ten titles on our watchlist to look forward to!
Stay tuned for more title announcements expected in early February. Register now for the 2023 SXSW Conference & Festivals in Austin, TX taking place March 10-19. And now, feast upon what's in store so far.
Evil Dead Rise
Director/Screenwriter: Lee Cronin, Producer: Rob Tapert
Evil Dead Rise tells a twisted tale of two estranged sisters, played by Sutherland and Sullivan, whose reunion is cut short by the rise of flesh-possessing demons, thrusting them into a primal battle for survival as they face the most nightmarish version of family imaginable. Executive Producers include Sam Raimi and Bruce Campbell. Cast List: Lily Sullivan, Alyssa Sutherland, Morgan Davies, Gabrielle Echols, Nell Fisher
The Narrative Feature competition brings us the world premiere of Raging Grace, from British-born Filipino writer-director, Paris Zarcilla. According to Deadline, the film follows Joy, an undocumented Filipino immigrant who is struggling to do the best she can for her daughter when she secures the perfect job: taking care of an extremely wealthy but terminal old man. The new position pays well and guarantees a roof over their heads. But very soon, Joy and her daughter Grace start to realize everything is not as it seems. Something is festering beneath the surface, threatening all they have worked for.
This year's Midnighters section is serving up "provocative after-dark features for night owls and the terminally curious." Lots of familiar names in this section! Exciting titles featuring the likes of Ted Geoghegan (We Are Still Here) and Larry Fessenden reuniting, David Dastmalchian starring in a '70s-set Larry Sanders meets demonic possession tale, and Hypnotic directors Matthew Angel and Suzanne Coote delivering some wrath. Check out the full slate of Midnighters titles and synopses below.

Aberrance (Mongolia)
Director: Baatar Batsukh, Producers: Trevor Doye, Alexa Khan, Angarag Meguun, Screenwriters: Baatar Batsukh, Byambasuren Ganbat
An estranged couple takes a retreat in the woods. Foreboding neighbors, frivolous friends, and dark unseen forces lead to a shocking conclusion. Cast List: Erkhembayar Ganbat, Selenge Chadraabal, Yalalt Namsrai, Oyundary Jamsranjav, Sukhee Ariunbyamba, Bayarsanaa Batchuluun, Badamtsetseg Batmunkh (North American Premiere)

Brooklyn 45
Director/Screenwriter: Ted Geoghegan, Producers: Seth Caplan, Michael Paszt, Pasha Patriki, Sarah Sharp
In the months following World War II, five old military friends are talked into an impromptu séance, which brings to troubling light each of their haunted pasts. Cast List: Anne Ramsay, Ron E. Rains, Jeremy Holm, Larry Fessenden, Ezra Buzzington, Kristina Klebe (World Premiere)
It Lives Inside
Director: Bishal Dutta, Producers: Raymond Mansfield, Sean McKittrick, Screenwriters: Bishal Dutta, Ashish Mehta
An Indian-American teenager struggling with her cultural identity has a falling out with her former best friend and, in the process, unwittingly releases a demonic entity that grows stronger by feeding on her loneliness. Cast List: Megan Suri, Neeru Bajwa, Mohana Krishnan, Betty Gabriel, Vik Sahay (World Premiere)

Late Night With the Devil (Australia, United Arab Emirates)
Directors/Screenwriters: Colin Cairnes, Cameron Cairnes, Producers: Derek Dauchy, Steven Schneider, Roy Lee, Adam White, Mat Govoni
A live television broadcast of a popular late night talk show in 1977 goes horribly wrong during a demonstration of demonic possession, unleashing evil into the nation's living rooms. Cast List: David Dastmalchian (World Premiere)

Monolith (Australia)
Director: Matt Vesely, Producer: Bettina Hamilton, Screenwriter: Lucy Campbell
All you have to do is listen. A disgraced journalist turns to podcasting to try and rebuild her career - but her rush to generate headlines soon uncovers a strange artifact, an alien conspiracy, and the lies at the heart of her own story. Cast List: Lily Sullivan (International Premiere)

Talk To Me (Australia)
Directors: Danny Philippou, Michael Philippou, Producers: Samantha Jennings, Kristina Ceyton, Screenwriters: Danny Philippou, Bill Hinzman
Lonely teenager Mia gets hooked on the thrills of conjuring spirits through a ceramic hand, but when she is confronted by a soul claiming to be her dead mother, she unleashes a plague of supernatural forces. Cast List: Sophie Wilde, Miranda Otto, Alexandra Jensen, Joe Bird, Otis Dhanji, Zoe Terakes, Chris Alosio (Texas Premiere)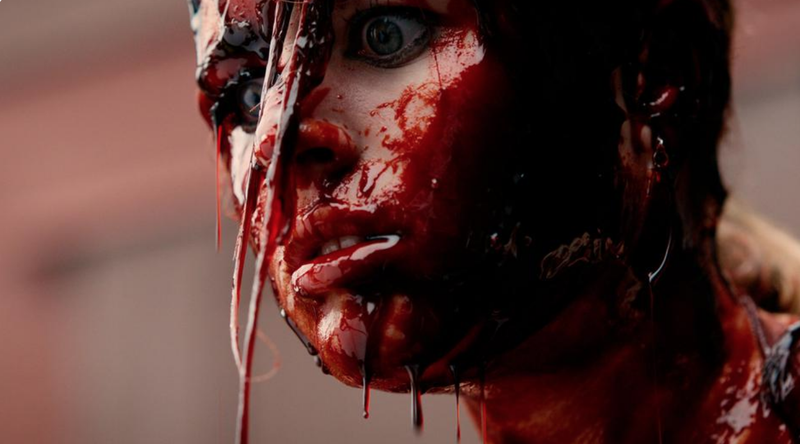 The Wrath of Becky
Directors/Screenwriters: Matthew Angel, Suzanne Coote, Producers: Raphael Margules, JD Lifshitz, Tracy Rosenblum, Russell Posternak, Chadd Harbold
After living off the grid for two years, Becky finds herself going toe to toe against Darryl, the leader of a fascist organization, on the eve of an organized attack. Cast List: Lulu Wilson, Seann William Scott, Matt Angel, Courtney Gains, Aaron Della Villa, Michael Sirow, Denise Burse-Fernandez, Jill Larson, Kate Siegel (World Premiere)
Topics: