Vagina dentata is just the beginning!
Maternal instinct turns killer!
Light a fire under your keester with these killer books.
New international horror dropping this month!
Exploring objectification and the body horror hydra through medical meddling and beyond.
These outfits are to die for.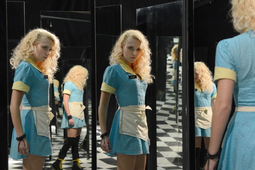 Counting down some favorite music cues.
From GRIZZLY to CLAWS, get your paws on these.
From bloodsuckers to vomit eaters and goo fuckers, we've got something for everyone.
Exploring common horror movie ultimatums in the grand style of "The Trolley Problem."
Killer jeans, blood-thirsty tires, literal buttheads, and beyond.
From exorcisms to anthologies, the year has been rich with películas de terror.
Dinner parties to die for.
New releases rounding out 2022 and ushering in 2023.
From the swamps to the sewers, and beyond.