What are the top ten horror movies on streaming this week? Yes, spooky season is officially over, but the desire for more horror doesn't end, even as we approach the other holiday season. People love scary movies, so let's keep up with all the favorites all around the country. What are the top fright films that we like to watch this week? Maybe great films like When Evil Lurks, Talk To Me, and the monster hit Five Nights At Freddy's? We have the top ten list of the hottest movies filled with terror that are big hits with the moviegoing public on streaming. The fun for all of our favorites doesn't end with their theatrical run, thank goodness. Read more: 4 Horror Movies To Watch In Theaters This Weekend.
1. Talk To Me (2022)
It is perhaps not a surprise that Danny and Michael Philippou's Talk To Me is still in the top spot this week. This first feature film has proved hugely popular and has surpassed Ari Aster's Hereditary as A24's top-grossing film. It burned up the film festival circuit and already had tongues wagging even before its debut at Sundance last year. It stars a charismatic and sympathetic cast, including Sophie Wilde, Alexandra Jensen, Joe Bird, Otis Dhanji, Miranda Otto, and Zoe Terakes.
2. Five Nights at Freddy's (2023)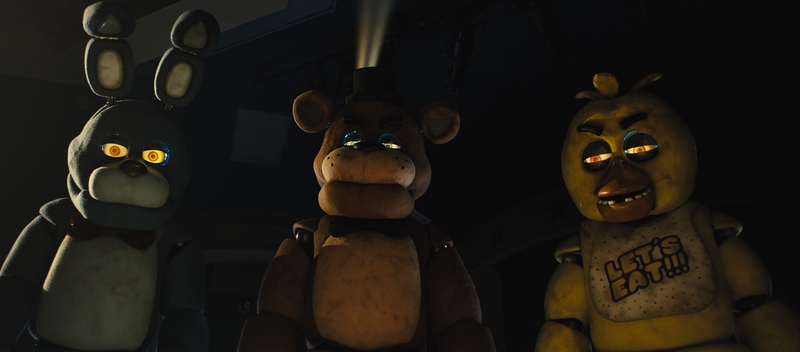 The biggest movie at theaters this week is also nearly the biggest movie on streaming as well, but Talk To Me managed to hold out against the monster success of Blumhouse's Five Nights at Freddy's. It was given a simultaneous release in theaters and on Peacock streaming, and it doesn't seem to have hindered the film's success at all, putting paid to the naysayers who insist that films with concurrent theatrical and streaming releases are doomed to failure. Read more: Terrifier 3 Gets October 2024 Release Date.
3. Halloween (1978)
The ever-popular John Carpenter classic slipped a little to number three on the list, but only because of the behemoth that is Five Nights at Freddy's. The fact that a movie that almost everyone has seen that was made in the 70s is still in the top ten says a lot about the quality of Carpenter's filmmaking and the popularity of the film. There is no doubt that Halloween was being watched on Halloween by tons of horror fans and mainstream film fans as well.
4. When Evil Lurks (2023)
If you are a big fan of Terrified or even if you aren't When Evil Lurks is the gotta-see horror movie of the fall. It's got a similar heat and word of mouth to Talk To Me's springtime buzz, and for a good reason. It's got a 99% average on Rotten Tomatoes and comes highly recommended by Fango staff members. This terrifying new spin on the possession subgenre takes no prisoners and is beautiful madness. Read more: Curses, Contaminants, and Canines: Demián Rugna on When Evil Lurks.
5. Scream (1996)
Scream, the perpetual horror film favorite, is still on the list after Halloween, to no one's surprise. It's a year-round favorite that you can put on anytime you want a great scare. The film's villain, Ghostface, is a hall-of-fame slasher villain whose greatness comes from the flexibility the iconic costume gives the series. Ghostface can be anyone, so you can never trust anyone in the series.
6. The Thing (1982)
The Thing is one of John Carpenter's most remarkable films that was not appreciated at the time of its release but is now acknowledged as one of the greatest fright films ever. Even though it is clearly a winter horror film, the paranoia that strikes the film's characters is relatable all year round. With a brilliant cast of mostly character actors, it is a film that sinks into your core and won't let go. Read more: 10 New Horror Movies Streaming On Max And Netflix This Month.
7. Cobweb (2023)
Cobweb is still doing well as a 2023 release that has made its mark among horror fans. It was number six on last week's list and has only dropped one rung post-Halloween. It is also another feature debut of a director, in this case, Samuel Bodin. It is a film where the horror is located squarely in the family and the home, with a presence that is hidden and only reveals itself to a child. In that, Cobweb's frights come out of the place where you are supposed to be safe.
8. The Last Voyage of the Demeter (2023)
The Last Voyage of the Demeter is an unjustly overlooked scary movie from 2023. It's more along the lines of the classic horror films of the past since it is the story of the ship that took Dracula to London from the classic novel, and it concentrates on the evil of Dracula. While some Dracula films are about a romance between the king vampire and a human woman, The Last Voyage of the Demeter is about Dracula the monster. It stars Corey Hawkins, Aisling Franciosi, David Dastmalchian, and Liam Cunningham and is directed by André Øvredal, who made the well-regarded film The Autopsy of Jane Doe.
9. No One Will Save You (2023)
Directed by Brian Duffield, No One Will Save You continues to be popular among film fans and horror buffs. It's another release that is well regarded from its time on the film festival circuit. It's the story of one woman fighting off an alien invasion that no one else seems to notice. The woman, Brynn, is isolated and shunned by the people in her small town, facts that ironically seem to contribute to her will to survive and fight the alien menace.
10. Saw X (2023)
Saw X is the latest film in the Saw franchise, which takes the story back to when John Kramer, aka Jigsaw, played by Tobin Bell, was still alive. Set between the events in Saw and Saw II, it is the tenth Saw film following 2021's Spiral and also brings back the fan-favorite character of Amanda, played by Shawnee Smith. Even better for the franchise is that it is the most critically praised Saw film and has an average critical approval rating of 79%, the best of the series. It also stars Synnøve Macody Lund, Steven Brand, Renata Vaca, and Michael Beach.