Tilda Swinton horror movies have a special aura all their own. The actress has made some of the most distinctive and iconic scary movies in the genre. Her image is enough to let you know that the film that you are watching isn't going to be ordinary. Let's appreciate such massive talent on her birthday and all days. Watch a fright film with Tilda Swinton in it today, and sometimes, while watching at least one of those movies, you may be watching more than one Tilda Swinton at work. Read more: The Dead Zone Coming To 4K With A KINGCAST Commentary Track.
Constantine (2005)
As the androgynous, hybrid angel Gabriel, Tilda Swinton embodies the idea of pristine evil. An entity with a particular contempt for human beings and their weaknesses, Gabriel plots to unleash the son of Lucifer and antichrist Mammon on Earth to bring on the Apocalypse. As the androgyne angel, Swinton has a tough task, how to be a pure being who is still tormented by hatred and envy and does excellent work making Gabriel one of the film's most intriguing characters. Read more: Francis Lawrence Wants Constantine 2 To Deliver On Its R-Rating.
We Need to Talk About Kevin (2011)
While We Need to Talk About Kevin isn't a conventional horror movie, it's frightening in a way that few other films are. It is the story of a mother, Eva Khatchadourian, whose son turns out to be a killer without remorse—a killer who kills for no reason and commits a mass shooting. While Eva has had eerie feelings about her son and tries to warn her husband that there is something wrong with him, her husband doesn't listen. It's an all too relatable and terrifying story.
Only Lovers Left Alive (2013)
Jim Jarmusch's Only Lovers Left Alive contains one of Swinton's most well-known roles. She has no problem embodying an ancient vampire, Eve, and makes it look as easy as playing an angel. Every bit of what she does is believable and fascinating, especially her work and her character's marriage with Adam (Tom Hiddleston). It's the most romantic sort of horror, naturally starring vampires, but it's still thrilling. Read more: Tilda Swinton Talks Jim Jarmusch's Vampire Romance Only Lovers Left Alive And More.
Snowpiercer (2013)
In this post-apocalyptic story of a train that is on an eternal track through the ruins of an Earth that has suffered a climate catastrophe, Swinton plays Minister Mason, the evil mouthpiece of the creator of the train. Swinton was ready to adopt the most outrageous costume and make-up to play a hideous person, but director Bong Joon-ho pulled her back from the edge. As it is, the portrayal is striking, and her villainy is more than memorable. Read more: Q&A: John Hurt On His Futuristic Trip In Snowpiercer.
Suspiria (2018)
Luca Guadagnino's brilliant and audacious remake of Dario Argento's Suspiria makes something terrifyingly new out of the story. In it, Tilda Swinton plays three characters: Madame Blanc, Mother Helena Markos, and Dr. Josef Klemperer. While she is listed in the credits as Lutz Ebersdorf while playing Klemperer, it's definitely her, and she does a marvelous job with all three characters. Cold, imperious, and remote, all three characters have similar characteristics but are distinct as different people.
The Dead Don't Die (2019)
Working again with independent director Jim Jarmusch on his absurdist zombie horror comedy, The Dead Don't Die, Swinton again stands out among a great cast. She plays Zelda Winston, an eccentric, naturally Scottish woman who has come to the town of Centerville to become the town mortician. Yes, it's that kind of movie, and it is a horror comedy, so you can expect, especially since it is a Jarmusch movie, that it isn't an ordinary zombie movie. She has that unearthly quality that is always in her work: serene, calm, and eternal.
What We Do in the Shadows (TV series)
What We Do in the Shadows is a top-rated vampire TV series spun off from the cult classic horror comedy of the same name. In the episode, The Trial, Tilda Swinton plays the leader of the vampire council, Tilda, who is to judge Nandor, Laszlo, and Nadja, the series' central vampire characters. This episode brings together several guest stars who have all played vampires in the past, like Swinton, Wesley Snipes, Taika Waititi, and Jemaine Clement, who created the original film and played two of the original vampires and who also directed this episode.
The Eternal Daughter (2022)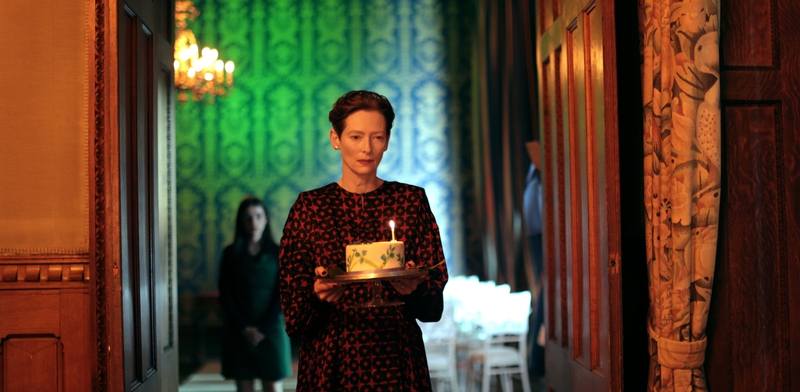 The Eternal Daughter was a film that was a surprise, directed by Joanna Hogg. Tilda Swinton stars in a double role as a mother and her own mother, Julie, and Rosalind Hart. It's about one night at a hotel, with Swinton playing a woman who is grieved by the fact that she has no children and her mother who is unhappy. The film asks you who is real and who is not, with a ghostly answer.
Topics: