Apparently, there were strange things afoot during the shooting of the upcoming Night of the Bastard. We're suckers for the strange, and we sure do love us some good behind-the-scenes anecdotes from set. Director Erik Boccio and star London May suspect this movie may actually be at least a little bit cursed, but what do you expect when you're off the grid in the middle of the desert, making a movie about a cult? According to May, the legendary Gaspar Noe told London to go make a film instead of working for him, thus, Bastard was born.
The cast and crew lived together during the weeks during production, adding a little something extra to the culty vibes.
The filmmakers say, "Bastard was plagued with so much bad luck during the making of this movie that it's been speculated that this film could be cursed. There have been many incidences of superstitious conjecture. Unknowingly, Bastard was filmed adjacent to an active serial killer's dump site, and the set was stalked at night by mysterious figures in blacked-out vehicles. No one was allowed outside of the gated filming areas without an escort."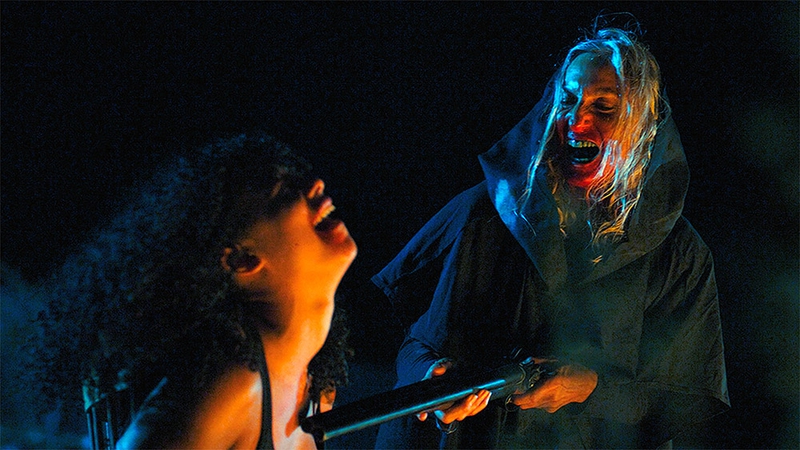 Aside from shooting in an area apparently frequented by the sort of creeps we wouldn't want to associate with, the natural environment proved to be pretty hellacious as well. "Temperatures rose to an infernal 135 degrees during the day, and though most of our shooting was done at night, when it cooled down to... 110 degrees." In true horror movie fashion, locals apparently warned the crew "You're all gonna die out there" and refused to rent equipment in order to deter them from going out to shoot in hostile conditions. A warning they clearly did not heed!
A desert monsoon dumped two inches of rain on the production, "flooding the sets and washing out the roads. Monstrous midnight sand storms blew away our tents and destroyed our lighting rigs, and ultimately blew the roof of the set!" The house across from the location also went up in flames and burned to the ground, with the fire department showing up the next morning to check on the crew in their blood-stained set. "There was a never-ending battle with equipment and mysterious power surges. Production was stalled continuously. Blame it on the heat or the curse- but Bastard seemed to be thwarted from every direction."
In spite of all that, Bastard lives to see the light of day.
Check out the official synopsis below.
Disgruntled hermit Reed lives a solitary life in the desert. After chasing away a group of youths trying to party near his home, Reed's peaceful life is violently upheaved when a goup of savage cultists lay siege to his house. 
Forced to partner up with one of the party-goers, Reed and his newfound colleague must defend themselves into the night, all while long-buried and disturbing secrets are revealed to him as part of the cult's evil plan. 

You can ask London and Erik about what the hell went down on set during their Reddit Ask Me Anything interview in r/Movies on Friday, 1/13 at 3pm ET. Night of the Bastard is coming to select theater and VOD/Digital Platforms January 13 from Dark Sky Films.  
Topics: