If you are at your wits end because you don't know of any new streaming horror movies for Halloween week, we've got you covered. Some of the season's scariest, most intriguing, and most hilarious fright films were saved for the last week and Halloween itself. From what has been called the most frightening and best horror film of the year to a hot and saxy body-swapping Stuart Gordon-style body-swapping tale, you've got some excellent choices after you've watched traditional horror films one too many times. Read more: 7 Sexually Explosive Cult Horror Movies from Stuart Gordon.
When Evil Lurks (2023)
You may have heard this before, but if you are a fan of horror films and you love to be scared, you really should watch When Evil Lurks as soon as possible. It's a shocking, savagely violent, terrifying movie without any safety net or pity. Director Demián Rugna has crafted a film so nightmarish that you'll feel like the movie just whomped you over the head when you are done. It's even better than his last spooky film, Terrified, which had horror fans talking for years. Whatever you're thinking about this marvelously original demonic possession film, we guarantee that you're not ready for it. It was released for streaming on Shudder on Friday, October 27. Read more: When Evil Lurks Director Demián Rugna On Killer Kids And Carnage.
Suitable Flesh (2023)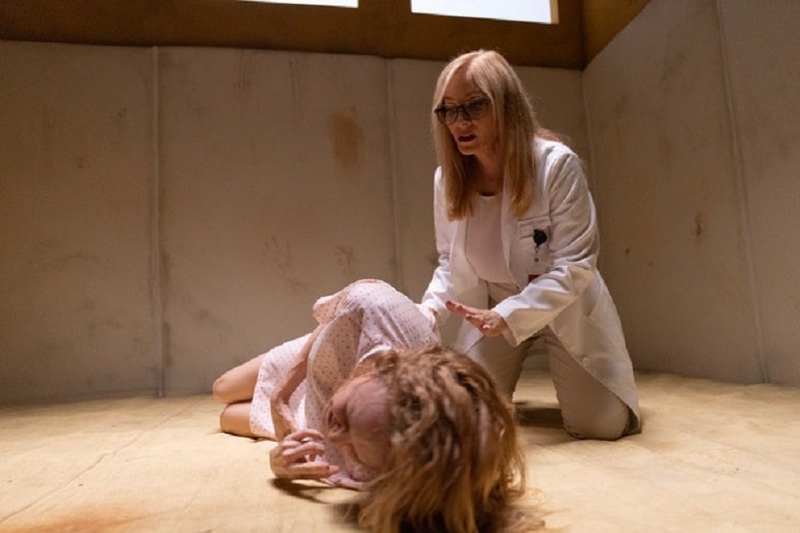 Suitable Flesh is another movie that isn't for the kids this scary season, but it's for the hot and saxy nights when the parents want to cuddle on the couch and scream together after the kids go to bed. Joe Lynch's tribute to Stuart Gordon's H.P. Lovecraft adaptations takes on the body-switching Lovecraft story The Thing on the Doorstep, with the powerhouse actresses Heather Graham and Barbara Crampton. Speaking of sexually explosive Stuart Gordon horror movies, Suitable Flesh does a great job of bringing sex back to horror. Read more: Joe Lynch On (Love)Crafting Truly Erotic Horror With Suitable Flesh.
Five Nights At Freddy's (2023)
This one is more of a family film. Yes, some people need family-friendly or gateway horror movies for the kids. Five Nights At Freddy's has done remarkably well with its concurrent theatrical and streaming release, but the upshot here is that it is new to Peacock streaming so you can watch it at home with the little ghouls and ghosties. The movie is based on a video game, true, but it stars Josh Hutcherson, Piper Rubio, Mary Stuart Masterson, and Matthew Lillard and is about the animatronic animals at Freddy Fazbear's Pizza becoming dangerous and murderous beings. Read more: Matthew Lillard Teases Five Nights At Freddy's Has "A Lot Of Jump Scares."
The Nun II (2023)
The Nun II is now streaming on Max on Friday, October 27. The latest film in The Conjuring Universe and the sequel to The Nun is a good scary flick that everyone in the family can enjoy. It's not TOO SCARY, but just scary enough. Bonnie Aarons as Valek, The Nun, is the most frightening part of the movie, and the artful touches of The Nun appearing on walls and in places you don't expect ramps up the spookiness. It has excellent cinematography and atmosphere, and the second scariest person is Jonas Bloquet as Maurice, with the most valuable non-scary players, Taissa Farmiga and Storm Reid.
Sister Death (2023)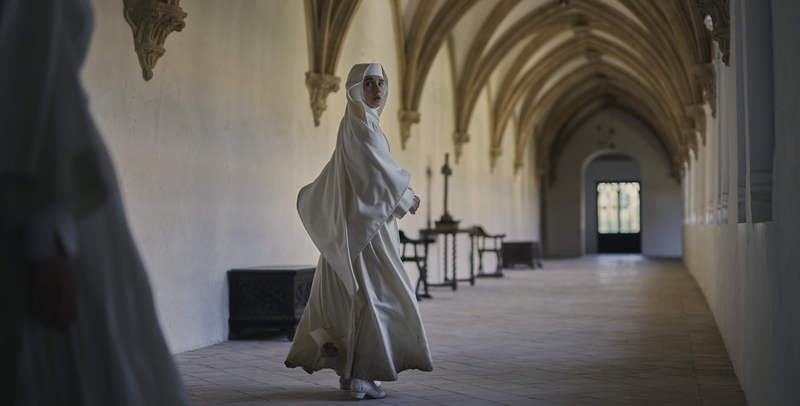 Director Paco Plaza's latest horror film, Sister Death, became available on Netflix on October 27. Paco Plaza is the Spanish director who co-directed [•REC] and co-created the REC franchise with co-creator and co-director Jaume Balagueró. Sister Death is the prequel to Plaza's 2017 filmVerónica. In it, a young novice, Narcisa, enters a convent when a spirit starts to murder the members of the convent after Narcisa has terrifying dreams. The film premiered at the Sitges Film Festival and stars Aria Bedmar, Maru Valdivielso, and Luisa Merelas.
Night of the Hunted (2023)
Night of the Hunted is French director Franck Khalfoun's newest film, which had its world premiere at Beyond Fest. Khalfoun is best known for P2 and the ultra-creepy remake of Maniac. Dubbed sniper horror, it's all too realistic with a woman executive, Alice, suddenly pinned down at a remote gas station fighting for her life against a mass shooter who seems to have a personal grudge. It stars Camille Rowe, Jeremy Scippio, Brenda Nunez, Stasa Stanic, and Monaia Abdelrahim. It started streaming on Shudder on October 20 but hasn't gotten the attention other titles have.
El Conde (2023)
This one is for the fans of artsy and weird horror. Pablo Larraín's black comedy horror film asks what if the Chilean dictator Augusto Pinochet, who is the star of the real-life horrors of Operation Condor, was actually a vampire? El Conde means The Count and the film is a bonanza of vampirism, eating hearts, and beheading. There's a lot of horror in this black-and-white fright film. What's scarier? Vampires or tyrannical dictators? Why not both? The movie stars Jaime Vadell, Gloria Münchmeyer, and Alfredo Castro and is now streaming on Netflix. Yes, it's been streaming since September, but again, this film isn't getting the notice it should be, so it's likely new to most people.
The Enfield Poltergeist (2023)
Okay, technically, this is a documentary mini-series, but it does concern one of the most famous hauntings in the world. The Enfield Poltergeist began streaming on Apple TV on October 27 and claims to tell the true story of the poltergeist incident made famous by such films as The Conjuring 2: The Enfield Case and Ghostwatch. The show, which has four episodes, tells the story using the tapes made during the incident, interviews with Janet and her sister Margaret Hodgson and uses actors to dramatize the events. It is directed by Jerry Rothwell, who wants to tell the story of the family rather than the paranormal investigators, and stars Paula Benson, Daniel Lee, Charlotte Miller, and Olivia Booth-Ford.
Winnie the Pooh: Blood and Honey (2023)
I'm not going to pass judgment on Winnie the Pooh: Blood and Honey here, but I can only imagine that some people would like to see the movie or are curious about it. Therefore, this is your notice that Winnie the Pooh: Blood and Honey has hit the streaming service Peacock just in time for Halloween. For those who may not be familiar with the film, it is a British slasher movie with Winnie the Pooh and Piglet as the slashers. It was directed by Rhys Frake-Waterfield and stars Craig David Dowsett, Amber Doig-Thorne, Nikolai Leon, and Maria Taylor. It definitely gets points for trying something that no one else has before. Fair warning: it's not a family film.
The Exorcist: Believer (2023)
The Exorcist: Believer, directed by David Gordon Green, is still in theaters but has come to VOD as of October 23. There are a lot of opinions on the film, and there seems to be a lot of disappointment in those opinions and reviews, but if you are curious and don't want to go to the theatre, VOD is now an option. The film features the return of legendary actress Ellen Burstyn, playing her original character, Chris McNeill, and not one, but two possessed little girls. It also stars Leslie Odom Jr. and Ann Dowd. One of the great things about any film is that you can always watch it and decide for yourself what you think of it.
Topics: