With today's announcement of Disney+ Hallowstream, I couldn't help but think of the Disney Halloween programming of yore. In what I like to refer to as the "Golden Age of the Disney Channel" for entirely biased and nostalgic reasons, the monthly arrival of The Disney Channel Magazine was an event. The October issue was the holy grail, to be sure. In addition to serving up "a cornucopia of color and excitement", the magazine also acted as a TV Guide specifically tailored to the channel my particular age demographic cared the most about. They went especially heavy on the Halloween-centric programming with a mix of features, Halloween specials and a slew of obscure rarities, some of which aired once, never to be heard from again. Here's a list of the Disney Channel Halloween lineup from 1983-1992.
One of my most prized possessions is a VHS tape my parents set to record, inadvertently capturing some gems that have yet to air since or be released in any official format. DTV Monster Hits, (Disney's answer to MTV, featuring Disney clips edited music-video-style to pop hits) is definitely the largest diamond in my personal collection. Ok, technically this one aired (one-time-only) on NBC, but it was a Disney special produced specifically for Halloween so we'll include it here. Shoutout to Mom and Dad for being tech-savvy and programming the VCR to catch that one.


All of this to say, this morning's announcement of the Disney+ Hallowstream programming is very exciting in a way that conjured up feelings of childhood Octobers. With a mixture of original new content, annual must-watch titles, old favorites and Halloween episodes of Disney series, it feels like Disney+ is a solid platform to carry on the spooky, family-friendly programming I waited all year for as a kid. LEGO Star Wars Terrifying Tales, Muppets Haunted Mansion, the new under Wraps remake, and R.L. Stine's Just Beyond are all featured "Boo Releases", premiering in early October. Gateway horror was important for this tiny creep and it's nice to see Disney carrying on the tradition for a new generation dipping their toes into some safe spooky programming, before they storm the gates wide open and plunge headlong into horror.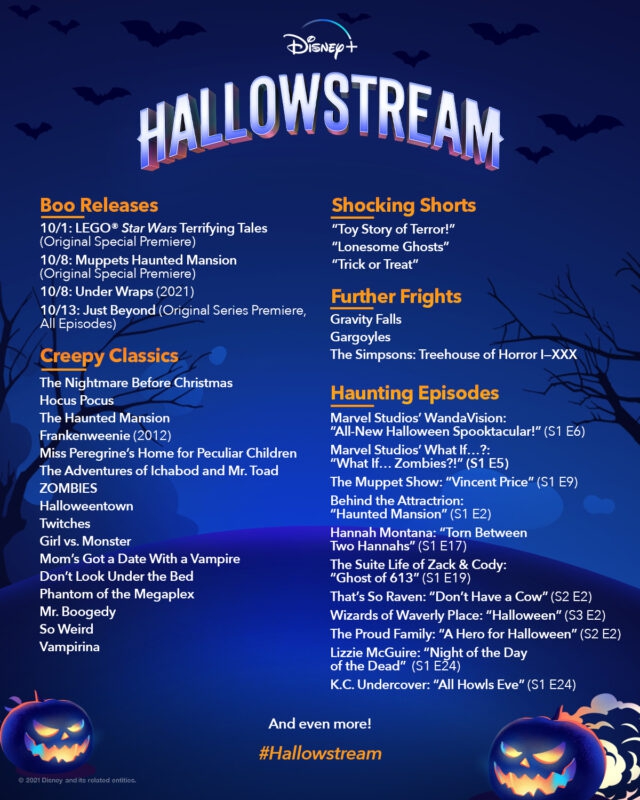 Because I'm aware my description of DTV Monster Hits sounds like a fever dream, you can check out a bad transfer of a clip over on YouTube.
Topics: