In a year filled with surprising things in the horror world, such as a very real low-budget Winnie the Pooh horror movie, one of the most surprising things of all is that the Bring it On franchise is going full slasher. A new film in the series of historically comedic cheerleaders movies is coming to Syfy this fall titled Bring it On: Cheer or Die. As evidence that this is a very real thing you will be able to watch in the near future, we have some first-look images (via Bloody Disgusting) from the film that go heavy on the cheerleader stuff, with just a side of horror. Have a look-see.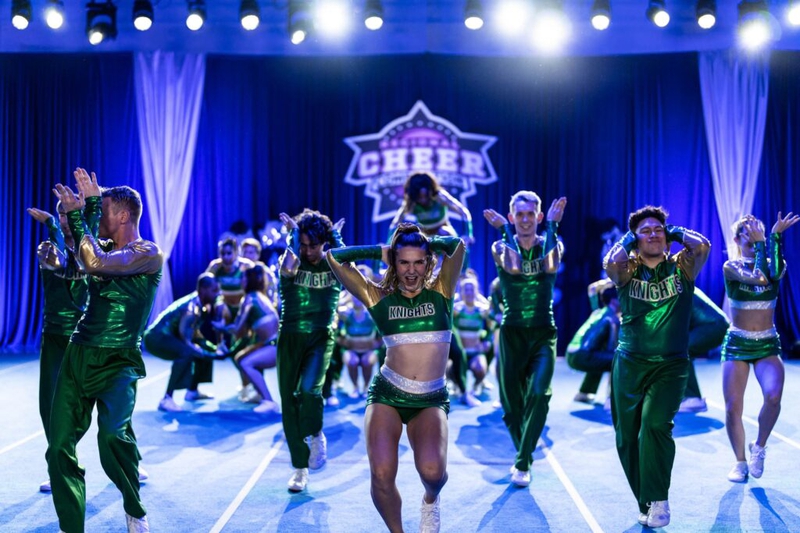 Quite honestly, most of these images hardly even hint at the prospect of this being a horror movie. If one didn't know better, they might just think this was a run-of-the-mill, made-for-TV extension of a long-running franchise. But we do have the image of the suspicious image in the truck and the one with what looks to be the blade from a paper cutter that offers us just enough to know we're in for something different. As far as the story is concerned? The synopsis reads as follows:
"Held down by restrictive rules, an embattled cheerleading squad seeks the freedom of a creepy, closed school gym to practice for regionals, but when members of the squad start to disappear, the cheerleaders must unmask their assailant to save themselves."
This is far from the first time Syfy decided to do the unexpected with a once-innocent property. Let us not forget that the network played host to The Banana Splits Movie, which turned the children's property from the late '60s into a slasher film, sort of cut from the same cloth as Five Nights at Freddy's. It is also worth pointing out that Syfy originals aren't what they used to be, with last year's Slumber Party Massacre remake serving as a real surprise. Not to mention the Chucky TV show. This to say, a Bring it On slasher flick could very well be worth keeping on one's radar beyond the shock value it carries on the surface.
Karen Lam (The Curse of Willow Song) is in the director's chair for this one. The cast includes the likes of Missi Pyle (Y: The Last Man), Kerri Medders (Panic), and Tiera Skovbye (Riverdale). Rebekah McKendry (All the Creatures Were Stirring) and Dana Schwartz (She-Hulk) penned the screenplay, working from a story by Alyson Fouse (Scary Movie 2).
Bring it On: Cheer or Die does not have a release date but is expected to arrive in time for Halloween this year.
Topics: