Horror is a genre where we believe the possibilities to be endless. Many films in the genre defy expectations and seek to tell new stories or tell stories in a different way, but some stand out in their efforts to express terror in different ways and expand the genre. Members of a well-known internet forum answered the question from another user: what were their favorite unconventional scary films? Here are some of their answers.
1. Possessor (2020)
Any one of Brandon Cronenberg's three feature films could make this list realistically, but Possessor was his breakthrough film and the one that made his reputation as a director who will always choose his own path. This film starring Andrea Riseborough, Christopher Abbott, and Jennifer Jason Leigh, is singular in its artistic drive and desire to excel.
The unconventional nature of Possessor is in its hyperviolent, non-judgmental view of evil and trauma. Cronenberg drops the audience directly into a contract hit completed through the most nefarious and astounding means. It's dazzling and mind-bending and takes the audience on a much deeper psychological journey than a first glance would reveal.
2. Begotten (1989)
If you have never seen E. Elias Merhige's black-and-white experimental film and like unconventional films, you should watch it. Many aspects of the film are unorthodox, the black and white photography, the narrative, and the characters, but Begotten flies in the face of modern filmmaking on many levels.
Begotten is also unlike any other horror film ever made, but it is still terrifying. Even looking at stills from the movie is chilling, even when you don't know what is actually happening. It stands apart from the filmmaking of the 1980s when it was created and is hugely influential among theatre and film artists to this day. It does look like a remnant of a violent past of gods and murder.
3. Inside (2007)
Pregnancy is a bit of a neglected or taboo subject in horror films. That has changed with films like Huesera: The Bone Woman, but pregnant women are rarely in horror films, and it is even rarer when they are the subject of danger in a horror film. Inside is such a film directed by Julien Maury and Alexandre Bustillo. Their debut as a directorial team leaves the pack with its unusual and inventive narrative.
Inside takes the idea of pregnant women as idealized madonnas, making them much more human and allowing them to be seen in danger and as aggressors. That is very unconventional, not just in horror filmmaking but in filmmaking in general.
The stars Béatrice Dalle and Alysson Paradis are seen more as human beings than the idealized version of a pregnant woman or a woman as a villain.
4. Pontypool (2008)
How do you become infected? Well, in Pontypool, based on Tony Burgess' novel Pontypool Changes Everything, instead of getting a dose of the rage virus through a bite or exchange of bodily fluids, the culprit is language.
In a twist that boggles the mind on a certain level, people are becoming enraged cannibals through speaking. The other twist is that the narrative heroes, Stephen McHattie (Grant) and Lisa Houle (Sydney), work at a radio station, and Grant is a shock jock. They make their living through words that you would think would make them supremely vulnerable to this curious plague, but instead, it gives them a way to fight it.
5. Phase IV (1974)
Phase IV is the only feature film directed by Saul Bass, the celebrated graphic designer of iconic film title sequences. What makes it so different is that the menace to the human race is not giant or violent monsters. It is the intelligence of the normal-sized ants and their ability to work together that is so hard for humans to fight.
The film was not popular when it was released, but it has gained a cult following for its eerie atmosphere and intelligent story. It was inspired by H.G. Wells's Empire Of The Ants, and another movie that was an adaptation of the same novel featured mutated giant ants.
But by sticking with the idea that intelligent and normal-sized ants could pose a serious threat to human civilization, this film went against the grain.
6. Titane (2021)
Julia Ducournau is another filmmaker who explores violent and uncommon themes in her films. Raw was a first and very offbeat story of a vegetarian college student who realizes her sexuality is connected to cannibalism. Still, in Titane, her Palm d'Or winning second feature, Ducournau has gone even further.
Titane is the story of an emotionally neglected child with a titanium plate in her head after an accident. Agathe Rousselle (Alexia) is also a serial killer and is subsequently impregnated by a car before she goes on the run.
But the atypical narrative doesn't stop there. Vincent Lindon as Vincent takes Alexia into his life and his heart. It's really something that must be seen by the viewer to fully understand the film's violence, body horror, and loving-kindness simultaneously.
7. Ravenous (1999)
Ravenous, directed by Antonia Bird and starring Guy Pearce and Robert Carlyle, is a different kind of cannibal film. It harkens back to the frontier cannibals Alferd Packer and the Donner Party but links the idea of the evils of Manifest Destiny to cannibalism. The film also ties in with the Wendigo legend, referenced in Pet Sematary.
The characters are given the choice of dying or committing acts of cannibalism that will doom them to crave flesh forever. It is a moral quandary that tests whether or not each individual is more committed to their moral fiber or willing to survive at any cost.
8. A Wounded Fawn (2022)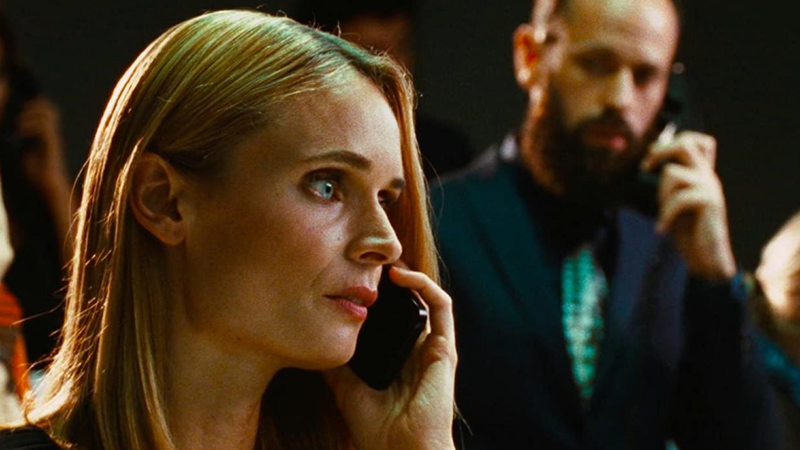 A Wounded Fawn is the third feature directed by Travis Stevens, starring Sarah Lind (Meredith Tanning) and Josh Ruben (Bruce Ernst). This uncommon combination of classical art, theatre, and Greek mythology within a neo-Giallo slasher makes for a heady mix.
The artistic touches of masking, gorgeous costumes, and the laugh-out-loud extending scene at the end forge a film that isn't quite like any other. It has strong feminist and intricate psychological themes, an inventive and haunting score by Vaal, and gorgeous 16 mm cinematography by Ksusha Genenfeld. It was a labor of love that shows all over the finished product.
9. Skinamarink
Kyle Edward Ball's experimental feature debut is so idiosyncratic that it stands out in a list of unconventional films. The premise is simple. Two children are stuck in their home, seemingly abandoned by their parents, and are menaced by an unknown presence. Ball creates a sense of terror through minimalism.
The film is fascinating and focuses on camera angles that show the ceiling or the ground, similar to some of the techniques in Robert Bresson's work, Lancelot du Lac.
For the people who can hook into it because it is challenging, the payoffs or the major scares are both shocking and made from things that would never be considered scary in another context. It's one of a kind.
10. Beyond The Black Rainbow
Panos Cosmatos is known best for his second film, Mandy, a classic beloved by many horror fans, but his first feature, Beyond The Black Rainbow, is unique even though its influences include films like Begotten.
The film's slow pace and incredible visual style, along with the score's powerful earworms Run Program - Sentionauts and Forever Dilating Eye, written by Jeremy Schmidt as his solo project Sinoia Caves, only add to the film's haunting and hypnotic power. It's a film that, instead of fitting into horror formulas, expands what the genre is capable of.
Source: Quora.
Topics: