It's just not fair; evil is everywhere. Quite a few films of terror are about objects seem to be possessed by an evil force. Some are surprising, and some are "Yeah, I should have known."
Death Bed: The Bed That Eats (1977)
All they wanted to do was rest and nap, but they found a bed that would eat them instead. That's just rude. In this folk horror film directed by George Barry, the film is divided into meals which tells you where this is going. The tears of a demon animate the bed and continues to eat people while the demon is asleep.
The Mangler (1995)
Even at work, you aren't safe. You go into the industrial laundry expecting some safety procedures, and nope. This film, directed by Tobe Hooper, and starring Ted Levine and Robert Englund, is based on a Stephen King short story from his time working in a laundry. Unfortunately, the laundry press is possessed by a demon.
The Evil Dead (1981)
If you go to a remote cabin in the woods, which isn't a great idea in the first place in a horror movie, if you find a weird-looking book, leave it alone. It might seem like a good idea to be curious but trust me, it isn't in the case of The Evil Dead. The film, directed by Sam Raimi and starring Bruce Campbell, just proved the wisdom of leaving books possessed by demons be, but putting them away is probably not as much fun for the audience.
The Car (1977)
"The Car" definitely put a new spin on road safety, and it's probably not a positive one. Director Elliot Silverstein, who also directed "Cat Ballou," put a new spin on demonic possession by introducing this terrifying Car without a driver. The Car will not be stopped, except by hallowed ground, which is a big tip-off that it's possessed. The film is tense and strangely arty.
The Possession (2012)
This film from 2012 stars Kyra Sedgwick and Jeffrey Dean Morgan. Ole Bornedal directed the film which concerns a Dybbuk box that wants to possess the couple's child. The demon inside the box is very powerful, and after starting to possess their child Em, it takes an exorcism to stop it. The box is meant to contain the spirit but reaches out inside its prison. Great, now we have to worry about boxes.
Child's Play (1988)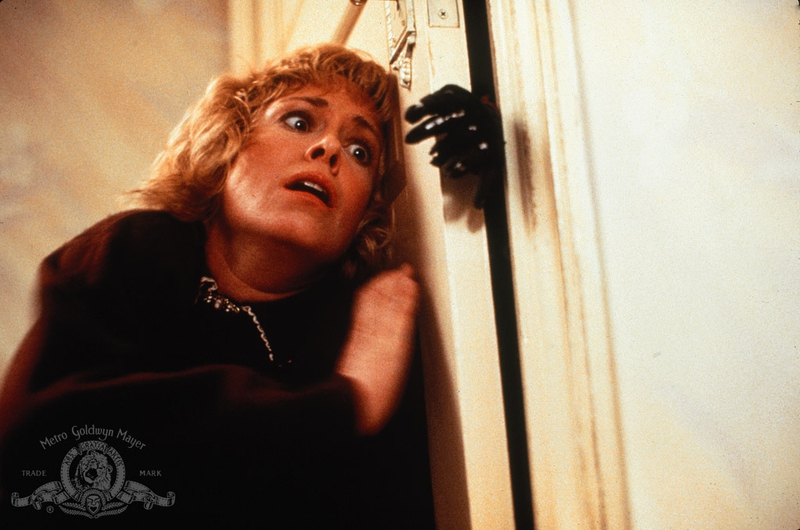 Suppose you were wondering if children's toys were safe from demons, they're not. In this top-rated horror franchise, it all started when a dying criminal Charles Lee Ray transferred his soul into the body of a Good Guy doll. Any port in a storm, I guess. As directed by Tom Holland, the film is frightening and funny at the same time. It stars Catherine Hicks, Chris Sarandon, and Brad Dourif in one of his signature roles.
The Changeling (1980)
This classic film, directed by Peter Medak and starring George C. Scott and Trish Van Devere, is not a demon possessing an object but a child who was murdered by taking control of objects in the child's former home. Another difference in this story is that the spirit takes possession of whatever object it needs. Its power exists in the child's music box, the christening medal, and finally, in one of the film's most terrifying moments, the child's wheelchair.
In Fabric (2018)
Yes, it's true. Even clothes aren't safe in horror. "In Fabric" was directed by Peter Strickland and stars Marianne Jean-Baptiste and Hayley Squires. The beautiful red dress seems to cause unhappiness, death, and mayhem wherever it goes, and people are drawn to it helplessly. The bad news for everyone is that the dress cannot be destroyed.
Christine (1983)
Are there two possessed cars here? Of course, and that's because "Christine" is not only based on a book by Stephen King but directed by John Carpenter. There is also a crucial difference between Christine and The Car. Christine has an owner and a driver, the formerly nerdy Arnie. The other difference is that Christine looks pretty jealous and possessive of Arnie himself and takes revenge on people who harm Christine or Arnie. This is another possessed object that may be indestructible.
Talk To Me (2023)
This is a film that will be released this summer, but it definitely deserves inclusion here. Directed by Danny and Michael Philippou, it concerns an embalmed hand that teenagers dare each other to use as a conduit to the spirit world. Powerful forces and frightening events then unfold as Sophie Wilde as Mia, tries to find a way to contact someone she loved and lost. In her grief, she is drawn back to the hand again and again.
Topics: