Looks like a whole bunch of you went to the movies this weekend.
From the writer of COCAINE BEAR, no less.
In which Blumhouse's long-awaited video game adaptation finally shows off the goods.
The director of IDENTITY is saying all the right things here...
The KNOCK AT THE CABIN director is already hard at work on his next project.
Just when we thought we were out...
Finally, a horror film for everyone who was terrified of quicksand as a kid thanks to cartoons.
"What's in the box?" The best-looking version of SEVEN you've ever seen.
This PINOCCHIO-themed Soulslike just keeps looking better and better.
With Álvarez at the helm, you know this one's gonna be gnarly.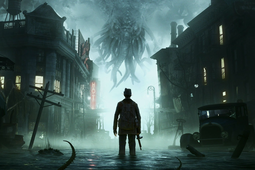 Who do we gotta sacrifice to get this made?
In which Disney plays an extensive game of musical chairs with its release schedule.
Felipe Vargas, the director of MILK TEETH, is in the director's chair.
A mysterious new horror film directed by Scott Beck and Bryan Woods may have found its star.
Starring Barbara Crampton, Heather Langenkamp and Bonnie Aarons!