The sequel is coming soon for the PlayStation 5 and PC.
Betty Gilpin and Benjamin Bratt star in the anime series, which premieres in June.
Louisa Warren is directing the film, which is set to arrive in October.
Tati Gabrielle, of YOU fame, will bring the character to life in the sequel.
Warner Bros. Games and NeatherRealm Studios are rebooting the franchise.
Carrie-Anne Moss and Frank Grillo are set to star in the film.
The producers of 47 METERS DOWN and FALL are behind the film.
The reboot of the Dark Horse Comics hero is going full-on horror this time around.
The film is set in the same universe as NIGHT OF THE LIVING DEAD.
Adam MacDonald is re-teaming with Missy Peregrym for a new survival thriller.
Director Nick Cassavetes brings this tale inspired by true events to life this summer.
The upcoming horror flick hails from The Butcher Brothers.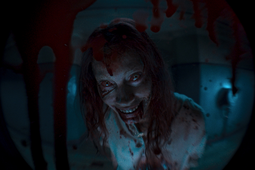 Warner Bros. has also announced when the film will arrive on Blu-ray.
AMC is expanding THE WALKING DEAD universe with a new spin-off this summer.
Kate Hudson will also star in the film about humanity's obsession with beauty.