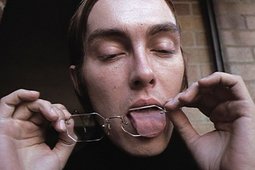 That's probably for the best.
Are the pair revisiting the director's 1970 avant-garde plague film?
Horror's strides toward inclusion has meant a nice uptick in stories about actual grown-ups.
The talented actor behind the show's most controversial character speaks.
The director of one of this year's best new horror films discusses slashers, prosthetic FX and why the woods keep calling him back.
If they don't use the tagline "You know the drill," fire everyone.
TOP GUN: MAVERICK flies away to fall, and the social commentary horror series moves into the July 4th weekend.
Screenwriter John Logan will make his directorial debut for the House of Blum.
Two friends remember the man who helped define their careers.
The filmmaker spills about his new monster movie.