The latest season of FX's horror-comedy hit looks typically hilarious.
Based on the Naughty Dog game, not the HBO series.
Tim Story's horror comedy hits this weekend!
Summer sequels! BATMAN RETURNS, ALIEN 3, and more.
Samuel Bodin's film looks to be one of the summer's creepiest.
The star of THE BOOGEYMAN and the team behind BARBARIAN have joined forces.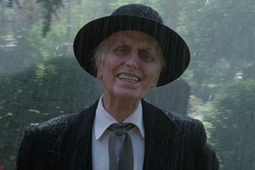 Live near PA's Mahoning Drive-In? Have we got the event for you.
Still no word on whether they'll be going 3D with this one.
Animal masks, axes, and flashlights - oh my!
Michel Hazanavicius' cheeky horror comedy is looking sharp!
Attack of the thirds! ALIEN 3, HELLRAISER III, ARMY OF DARKNESS, and more!
The Patrick Wilson-directed sequel hits theaters in one month.
The new sci-fi thriller from the team behind BARBARIAN is getting its cast together.