Maybe don't expect TOO MUCH blood from THE MEG 2.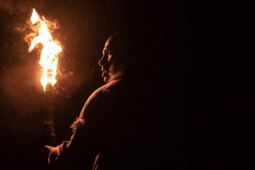 Bleecker Street's bringing this one to theaters later this year.
This movie looks ready to mint a whole new generation of horror kids.
HELLRAISER III, THE ADDAMS FAMILY, NAKED LUNCH, and more!
It's finally happening, 35 years later.
"Writing does not stop when filming begins," say the Duffer Bros.
And director Andy Muschietti has our first look at the set.
Wes Craven, Clive Barker, THE ADDAMS FAMILY, and more!
Sound advice, from the looks of things.
This one's gonna be a real looker.
Nope. Nope. Nope. Nope. Nope.
Headed your way this August via TrickorTreat Studios!
And some words from director Joe Stephenson on what to expect (and not expect) in his upcoming film.
Can't make it to a theater? Thank the Dark Lord for PVOD.
The monstrously successful roguelike horror game is getting a new look.