Creative Director John Murdy takes us behind the scenes of Chucky Ultimate Kill Count and Universal Monsters Unmasked.
Five horror titles get an exclusive release in the banner's debut set (plus a special collectible FANGORIA).
Saturday night double-features, spooky episodes of classic TV episodes, and Svengoolie's first ever primetime special.
From THE NUN II to FIVE NIGHTS AT FREDDY'S, there's plenty of new horror coming this season.
From THE LOST BOYS on Pluto TV to EVIL DEAD II on Tubi, here are all the FREE horror movies coming to streaming platforms this month.
Smith on his extremely quotable "Can you fly, Bobby?"line : "I wanted to say something nasty."
From PERPETRATOR to THE LAST DRIVE-IN's LIVE FROM THE JAMBOREE special, September is packed with goodies.
While paying homage to William Castle's original.
Streaming just in time to kick off those Halloween season watchlists.
Including brand-new live show THE PURGE: DANGEROUS WATERS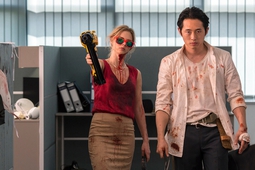 One-night only screening at Los Angeles' NuArt theater.
Lionsgate's double, triple, and octuple features arrive exclusively at Walmart just in time for Halloween season binges.
This is the story of a girl gone wild.
To celebrate the Digital release and upcoming Blu-ray, we're getting a peek at Rob Stanley's original creature concept art.
Plus: Turtle pizza, camel stew, the return of THE HANGING, and more!