The Latest
From
The Fango Free Press
Alongside the in-person festival, a selection of Sundance films will be available online between January 24–29, 2023.
The R-rated sci-fi thriller will premiere at Sundance early next year.
In which Christian Bale's detective joins forces with Edgar Allen Poe to catch a serial killer.
Who you gonna call? Jason Reitman's creative partner!
Wait'll you see THIS one.
Pioneering scare tactics: How Val Lewton and Jacques Tourneur made a vital contribution to the history of queer horror.
HALLOWEEN 5, TEXAS CHAINSAW 3, SHOCKER, and more!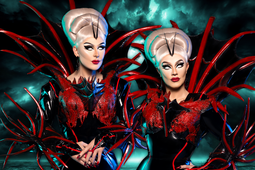 DRAGULA: TITANS secured the largest viewed premiere and episodic retention to date for the franchise.
Robert Pattinson and Steven Yeun will star in THE HOST director's new feature.
Wherein the VelociPastor goes to Italy.