The Latest
From
The Fango Free Press
Part five of our new weekly webcomic!
High school can be hell. Especially when you throw demonic possession into the mix!
Producer Roy Lee teases the upcoming horror flick LATE NIGHT WITH THE DEVIL starring David Dastmalchian.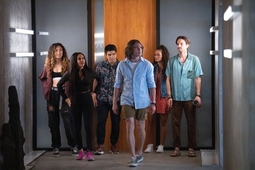 Bradbury warned us about this.
RAD CHAD creator Aaron B. Koontz joins us for a peek at the inspiration behind the art.
The things that go bump in the night are real. And they're hungry.
The veteran director guided the horror star through two cult flicks—and is now celebrating him with DRACULA, NAZI HUNTER.
DEAD HEAT, 976-EVIL, MONKEY SHINES, and more!
"Only in the hottest years this happens. And this year, it grows hot."
Take a look inside Mike Mignola and Chris Roberson's latest creation.