The Latest
From
The Fango Free Press
TRAGEDY GIRLS' Tyler MacIntyre and FREAKY's Michael Kennedy are ringing in the festive season with blood, guts and mayhem.
When it comes to devising torture games, Jigsaw's still got it.
A brand-new trailer for Apple TV+'s forthcoming documentary series has arrived.
Survive two of Capcom's most terrifying games from the palm of your hand.
Paramount has locked in a release date for the sequel to director Parker Finn's breakout hit SMILE.
The theater are teaming up with Exhumed Films for their season finale, featuring shirtless sax superstar Timmy Cappello.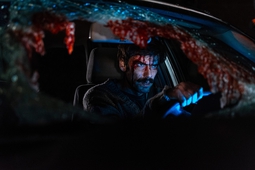 More blood, fewer ghosts, and some nice treats.
Read about the journey of bringing Michael Myers back for HALLOWEEN, HALLOWEEN KILLS and HALLOWEEN ENDS.
"What's your favorite scary (parody) musical?"