Store
NOTE: The shipping method you choose does not account for the time to process your order, which in some cases could take up to 1-2 weeks depending upon the availability of the product. Ship times are not an accurate estimate of when you should expect to receive your order; they reflect only the time it takes to ship your package by the selected carrier.
PLEASE DOUBLE CHECK YOUR ADDRESS TO ENSURE THAT IT IS CORRECT.
HOLIDAY SHIPPING MESSAGE: Domestic orders must be placed no later than December 17th for them to arrive in time for Christmas. Orders placed after that date or internationally will not be guaranteed to arrive in time for the Christmas holiday.
FANGORIA Presents: SCREAM FACTORY
00124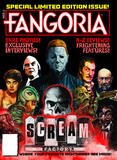 Special Issues
Presenting the limited-edition FANGORIA Presents: SCREAM FACTORY special issue, a complete A-Z essay compendium spotlighting every classic and cult horror film currently offered by the celebrated label, penned by FANGORIA staffers and supported by in-depth interviews and acres of rare, full-color photos illustrating the process in which the boutique home video label produces its celebrated releases. This glossy love letter is printed on heavier paper stock. A must for collectors.
PLEASE NOTE: This issue will not ship until the end of August 2014. If you have other items in your shopping cart that you would like shipped before then, it is suggested that you place a separate order for these items so as not to delay delivery.