Store
NOTE: The shipping method you choose does not account for the time to process your order, which in some cases could take up to 1-2 weeks depending upon the availability of the product. Ship times are not an accurate estimate of when you should expect to receive your order; they reflect only the time it takes to ship your package by the selected carrier. PLEASE DOUBLE CHECK YOUR ADDRESS TO ENSURE THAT IT IS CORRECT.
HOLIDAY NOTE: Cutoff for orders to BE PLACED in order to ARRIVE BEFORE Christmas is DECEMBER 20TH. No orders received after that date are guaranteed delivery before Christmas. Orders received this week (week of 12/21/2015) will not ship until after Christmas.
GOREZONE #31
00110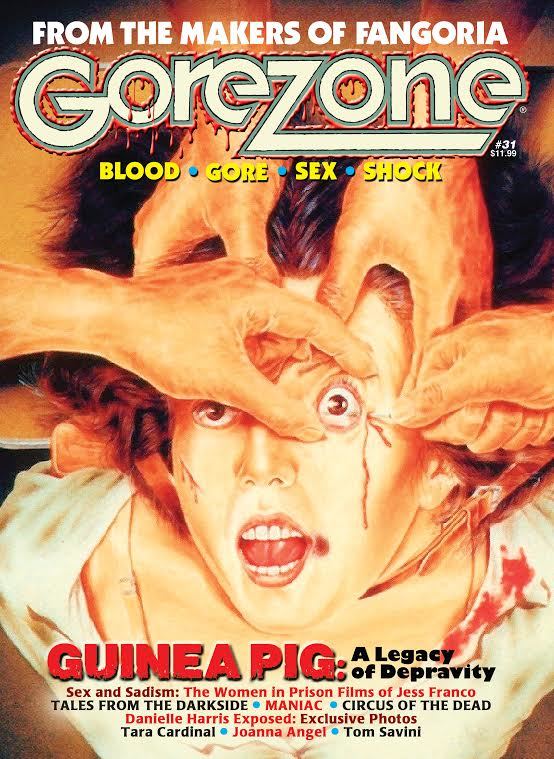 Special Issues
Price:
11.99
USD
In stock
Our GOREZONE #31 cover story is a survey of Japan's notorious GUINEA PIG movies, spearheading a full package covering all manner of transgressive cinema. We've also got the first part of an in-depth look at Jess Franco's women-in-prison pictures, a set visit to the killer-clown extravaganza CIRCUS OF THE DEAD, a chat with adult-horror specialist Joanna Angel, a retrospective on the groundbreaking terror TV show TALES FROM THE DARKSIDE, an exclusive photo pictorial with HALLOWEEN heroine Danielle Harris, new columns by Tim Lucas and Tom Savini and much more.
Note: All transactions are secure and executed through our merchant partners at Ecwid and Paypal. No credit card or personal information is ever stored on the Fangoria website server at any time.