Dreadtime Stories: "House of Blood"
00101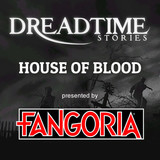 Dreadtime Stories
HOUSE OF BLOOD by Max Allan Collins
A gruesome murder of an entire family by a homicidal father, years ago, has turned a lovely old home into the local "House of Blood." A young couple who picked the song up for a song, terrorized by horrific sights and sounds, is advised by their real estate agent to send in a crack team of ghost-hunters. The paranormal investigators in the House of Blood have their own darks secrets, however, and when a seance unleashes the homicidal spirit within the house, blood again soaks the walls.
LISTEN TO THE COMMERCIAL FREE SAMPLE OF "HOUSE OF BLOOD".
Note: After purchase, an email will be sent to you with a link to your download. If you do not get an email, please check your spam folder.