Dreadtime Stories: "Psychomanteum"
00099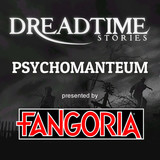 Dreadtime Stories
PSYCHOMANTEUM by M. J. Elliott
New York in the early 20th Century – something is murdering and mutilating the families of the city's noted psychologists. Is the culprit from a place beyond human comprehension?
LISTEN TO THE COMMERCIAL FREE SAMPLE OF "PSYCHOMANTEUM ".
Note: After purchase, an email will be sent to you with a link to your download. If you do not get an email, please check your spam folder.