Store
NOTE: The shipping method you choose does not account for the time to process your order, which in some cases could take up to 1-2 weeks depending upon the availability of the product. Ship times are not an accurate estimate of when you should expect to receive your order; they reflect only the time it takes to ship your package by the selected carrier.
PLEASE DOUBLE CHECK YOUR ADDRESS TO ENSURE THAT IT IS CORRECT.
HOLIDAY SHIPPING MESSAGE: Domestic orders must be placed no later than December 17th for them to arrive in time for Christmas. Orders placed after that date or internationally will not be guaranteed to arrive in time for the Christmas holiday.
Dreadtime Stories: "Psychomanteum"
00099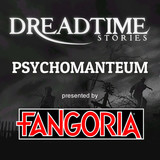 Downloads
PSYCHOMANTEUM by M. J. Elliott
New York in the early 20th Century – something is murdering and mutilating the families of the city's noted psychologists. Is the culprit from a place beyond human comprehension?
LISTEN TO THE COMMERCIAL FREE SAMPLE OF "PSYCHOMANTEUM ".
Note: After purchase, an email will be sent to you with a link to your download. If you do not get an email, please check your spam folder.