Dreadtime Stories: "The Final Battlefield"
00098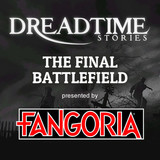 Dreadtime Stories
THE FINAL BATTLEFIELD by Barry Richert
After a four-year tour of duty in Viet Nam, Private Daniel Conway is glad to be home in Clover Ridge, Iowa. But his joy is short-lived when he is haunted by frightening visions of The Hangman, a vicious Viet Cong officer with a penchant for torture whom Daniel encountered during his stay in a prisoner-of-war camp. Pushed to the brink of madness by the continual appearances of his tormenter, Daniel is forced to ask himself an unthinkable question: Has The Hangman followed him home?
LISTEN TO THE COMMERCIAL FREE SAMPLE OF "THE FINAL BATTLEFIELD".
Note: After purchase, an email will be sent to you with a link to your download. If you do not get an email, please check your spam folder.