Dreadtime Stories: "Talking in the Dark"
00097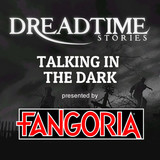 Dreadtime Stories
TALKING IN THE DARK by Dennis Etchison
A lonely man whiles away the hours by reading stories from his favorite mystery writer. A chance encounter with the writer answers the age-old question: Where does a writer 'really' get his ideas?
LISTEN TO THE COMMERCIAL FREE SAMPLE OF "TALKING IN THE DARK".
Note: After purchase, an email will be sent to you with a link to your download. If you do not get an email, please check your spam folder.