Store
NOTE: The shipping method you choose does not account for the time to process your order, which in some cases could take up to 1-2 weeks depending upon the availability of the product. Ship times are not an accurate estimate of when you should expect to receive your order; they reflect only the time it takes to ship your package by the selected carrier.

Dreadtime Stories: "Table Scraps"
00095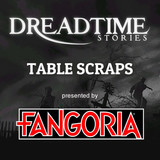 Dreadtime Stories
TABLE SCRAPS by M.J. Elliott
Most politicians would kill for a high approval rating. The powerful Lorrimer family don't need your approval - but they kill anyway.
LISTEN TO THE COMMERCIAL FREE SAMPLE OF "TABLE SCRAPS".
Note: After purchase, an email will be sent to you with a link to your download. If you do not get an email, please check your spam folder.