Dreadtime Stories: "Here Come the Sludge"
00089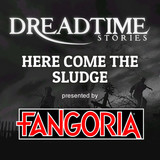 Dreadtime Stories
HERE COME THE SLUDGE by Steve Nubie
A fresh comet is en route with the seeds of a new form of life, or perhaps...a new form of death.
LISTEN TO THE COMMERCIAL FREE SAMPLE OF "HERE COME THE SLUDGE".
Note: After purchase, an email will be sent to you with a link to your download. If you do not get an email, please check your spam folder.