Store
NOTE: The shipping method you choose does not account for the time to process your order, which in some cases could take up to 1-2 weeks depending upon the availability of the product. Ship times are not an accurate estimate of when you should expect to receive your order; they reflect only the time it takes to ship your package by the selected carrier.
PLEASE DOUBLE CHECK YOUR ADDRESS TO ENSURE THAT IT IS CORRECT.
HOLIDAY SHIPPING MESSAGE: Domestic orders must be placed no later than December 17th for them to arrive in time for Christmas. Orders placed after that date or internationally will not be guaranteed to arrive in time for the Christmas holiday.
Int'l Brotherhood of Zombies- Local 86 Sticker
00086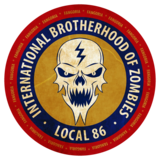 Swag
We need flesh-eating members!  Get your official International Brotherhood of Zombies sticker and show that you belong! Designed and brought to you exclusively by Fangoria, this 1,000 limited edition, high quality, screenprinted, die-cut, vinyl sticker measures a whopping 3" x 3", large enough to show your friends and neighbors that you finally have joined the human race....and are about to devour them.
Note: This is a pre-order.  Stickers are in production and will be shipped within 3-7 days of final receipt.  Estimated wait time is 2 weeks from 02/01/2014.