Store
NOTE: The shipping method you choose does not account for the time to process your order, which in some cases could take up to 1-2 weeks depending upon the availability of the product. Ship times are not an accurate estimate of when you should expect to receive your order; they reflect only the time it takes to ship your package by the selected carrier.
GOREZONE #30
00085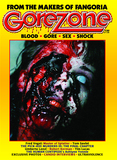 Special Issues
Price:
11.99
USD
In stock
GOREZONE #30 is out now, check out what we have going on:
- Fred Vogel: Master of Splatter
- Tom Savini
- The Pick Axe Murders III: The Final Chapter
- Umberto Lenzi
- Robert Kerman
- Tim Lucas
- The Human Centipede's Ashlynn Yennie
- EXCLUSIVE PHOTOS
- CANDID INTERVIEWS
- ULTRAVIOLENCE!!!