Store
NOTE: The shipping method you choose does not account for the time to process your order, which in some cases could take up to 1-2 weeks depending upon the availability of the product. Ship times are not an accurate estimate of when you should expect to receive your order; they reflect only the time it takes to ship your package by the selected carrier. PLEASE DOUBLE CHECK YOUR ADDRESS TO ENSURE THAT IT IS CORRECT.
GOREZONE #30
00085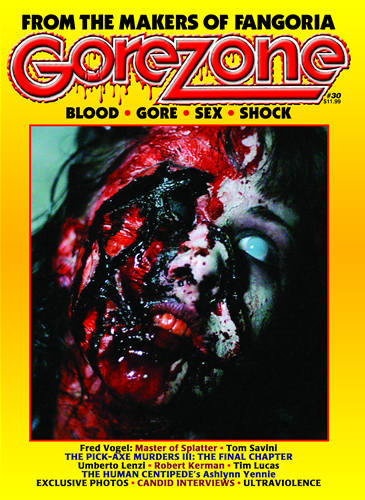 Price:
11.99
USD
In stock
GOREZONE #30 is out now, check out what we have going on:
- Fred Vogel: Master of Splatter
- Tom Savini
- The Pick Axe Murders III: The Final Chapter
- Umberto Lenzi
- Robert Kerman
- Tim Lucas
- The Human Centipede's Ashlynn Yennie
- EXCLUSIVE PHOTOS
- CANDID INTERVIEWS
- ULTRAVIOLENCE!!!
Note: All transactions are secure and executed through our merchant partners at Ecwid and Paypal. No credit card or personal information is ever stored on the Fangoria website server at any time.