Store
NOTE: The shipping method you choose does not account for the time to process your order, which in some cases could take up to 1-2 weeks depending upon the availability of the product. Ship times are not an accurate estimate of when you should expect to receive your order; they reflect only the time it takes to ship your package by the selected carrier. PLEASE DOUBLE CHECK YOUR ADDRESS TO ENSURE THAT IT IS CORRECT.
FANGORIA® Issue #329
00083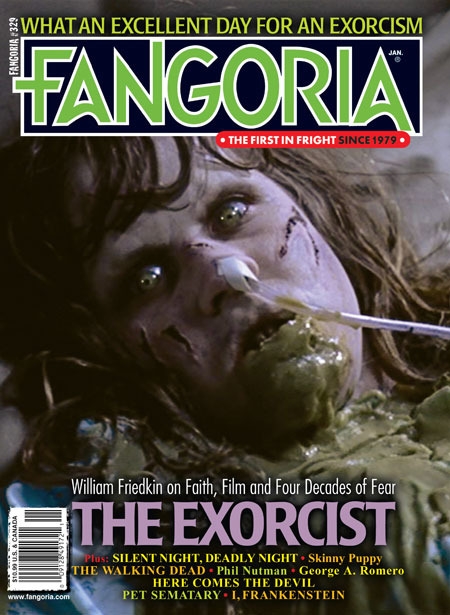 FANGORIA #329 features a cover commemorating the 40th anniversary of a horror landmark.
Yes, it's been four decades since THE EXORCIST first assaulted audiences, and its power and influence continue to be felt today. We've got an exclusive seven-page interview with director William Friedkin, who goes in depth about the meanings and legacy of his satanic classic. For more deviltry, we spoke with actors from the acclaimed new shocker HERE COMES THE DEVIL and the 666 sequel DAMIEN—OMEN II, and there's lots more in these pages, including George A. Romero previewing his new comic EMPIRE OF THE DEAD, Greg Nicotero on his many WALKING DEAD duties, chats with the directors of I, FRANKENSTEIN, CRAVE and FEAR FORCE FIVE, a look back at the notorious killer-Christmas flick (and next month's Fango rerelease) SILENT NIGHT, DEADLY NIGHT, a salute to our late writer Phil Nutman and much more. Head down past the cover for the full details!
GUTS
IN MEMORIAM: PHILIP NUTMAN A salute to the great writer and longtime Fango contributor, taken from us too soon.
MINIFEATURE: ANTONIA BIRD Remembering the individualistic director of the cannibal cult fave "Ravenous."
RETROSPECTIVE: "PET SEMATARY," PART ONE Covering the Stephen King-film shoot required a graveyard jaunt and a bit of subterfuge.
PREVIEW: "I, FRANKENSTEIN" Director Stuart Beattie reveals how he and the "Underworld" team are rethinking a legend.
PREVIEW: "FEAR FORCE FIVE" Giant monsters get up to gory business in Jack Perez's new on-line series; who can stop them??
PREVIEW: "CRAVE" Venture with filmmaker Charles de Lauzirika deep into a damaged mind seeking salvation.
INTERVIEW: GREG NICOTERO He started off making up "The Walking Dead" and has ended up giving them their marching orders.
INTERVIEW: GEORGE A. ROMERO The zombies hit New York in his "Empire of the Dead" comic, and you'll want to be a part of it. Plus: John Russo's double feature on the page.
PREVIEW: "HALLEY" Actor Alberto Trujillo offers an introspective take on living death in the festival fixture.
INTERVIEW: FRANCISCO BARREIRO With "Here Comes the Devil" and "We Are What We Are," he's becoming a staple of Mexican madness.
INTERVIEW: WILLIAM FRIEDKIN Presenting ultimate evil in "The Exorcist" was a matter of faith, according to its director.
INTERVIEW: ELIZABETH SHEPHERD On a wing and not a prayer, she became an Antichrist victim in "Damien—Omen II."
FEATURE: BILL MOHALLEY This year marked three decades in design for our longtime art director.
INTERVIEW: JIM VANBEBBER The maverick filmmaker went Ogre the top to match images with Skinny Puppy's "Spasmolytic."
DIARY OF THE DEB: "SERIAL KALLER" AND "AXE TO GRIND" It's age before booty as Debbie massacres her way through these two flicks.
FEATURE: DANIELLE K L ANATHEMA Twisted—and therapeutic—visions haunt her photographic canon.
MINIFEATURE: LIISA LADOUCEUR She'll teach you everything you need to know about Goth—and "How to Kill a Vampire."
WEIRD WORDS: "QUEENY'S LAST RUN" The first of three top entries from our second short-story competition.
INTERVIEW: STEVEN-CHARLES JAFFE Having taking us to "Hell" and "Dark," he now turns his producing eye toward macabre artist Gahan Wilson.
INTERVIEW: GILMER McCORMICK As a sympathetic nun, she tried to prevent a "Silent Night, Deadly Night."
FEATURE: WHERE ARE THE WOLVES? A look at why lycanthropes haven't gotten the same onscreen due as their bloodsucking brethren.
GRAVY
FIRST RITES The devil made him love it
POSTAL ZONE Defending the Dream
MONSTER INVASION Previews of "Open Grave," "Banshee Chapter," "The Pick-Axe Murders Part III" and "Speak No Evil"
THE VIDEO EYE OF DR. CYCLOPS Reviews of "Crawlspace," "Snuff," "Byzantium," "Jug Face" and others
MONSTER OF THE MONTH The "Humanoids from the Deep"
DUMP BIN DIARIES Millennium's "Snake Attack 4 Film Pack"
Note: All transactions are secure and executed through our merchant partners at Ecwid and Paypal. No credit card or personal information is ever stored on the Fangoria website server at any time.