Store
NOTE: The shipping method you choose does not account for the time to process your order, which in some cases could take up to 1-2 weeks depending upon the availability of the product. Ship times are not an accurate estimate of when you should expect to receive your order; they reflect only the time it takes to ship your package by the selected carrier. PLEASE DOUBLE CHECK YOUR ADDRESS TO ENSURE THAT IT IS CORRECT.
GOREZONE #29
00082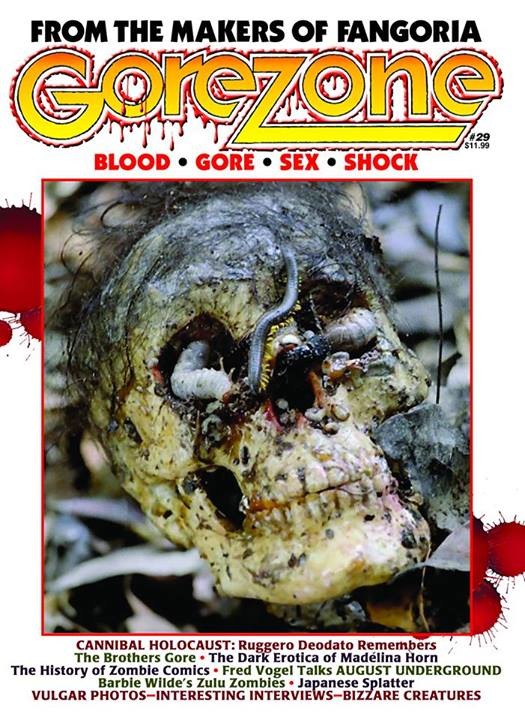 Price:
11.99
USD
In stock
For GOREZONE #29, we sat down with Ruggero Deodato, whose notorious CANNIBAL HOLOCAUST is due for a major reissue next year, for a lengthy look back at his controversial career. For more flesh-munching, this issue starts with a lengthy retrospective on zombies in the comics word and ends with a piece on CANNIBAL FEROX; in between you'll find a blood-drenched survey of the films of J-Splatter maestro Yoshihiro Nishimura, a talk with composer Hermann Kopp about his collaborations with NEKROMANTIK auteur Jörg Buttgereit, an interview and explicit four-page pictorial with macabre performance artist/actress Madelina Horn, new columns by Tim Lucas and Tom Savini and much more. GOREZONE is available by subscription only (it's too rough for newsstands!), still for just $45 for one year/six issues, so go here to order; issue #28 is also available here.
BLOOD FEST Confessions of a "Holocaust" survivor
GUT REACTIONS Old fans welcome us back with severed arms.
RETROSPECTIVE: ZOMBIE COMICS In the late '80s and '90s, walking corpses invaded the pages in a big, bloody way.
PROFILE: YOSHIHIRO NISHIMURA He's the number-one "Helldriver" behind the modern Japanese splatter trend.
TOM SAVINI'S MAKEUP FX LAB George A. Romero's "Monkey Shines" showcased a primate example of his animal-making talents.
INTERVIEW/PICTORIAL: MADELINA HORN In art, on stage and now in movies, she explores the dark side with abandon.
INTERVIEW: RUGGERO DEODATO With "Cannibal Holocaust," he combined a style and a subject for an impact unequaled since.
BIJOU OF THE BANNED A new column on censored cinema debuts with Lucio Fulci's "Cat in the Brain."
TIM LUCAS: TALES FROM THE ATTIC The art of the audio commentary involves more than getting your facts straight.
INTERVIEW: THE BROTHERS GORE Up in Canada, a pair of rising makeup FX talents are living up to their nickname.
INTERVIEW: HERMANN KOPP The German musician provided very odd love themes for controversial filmmaker Jörg Buttgereit.
FICTION: "Z IS FOR ZULU ZOMBIES" Erstwhile Cenobite Barbie Wilde unleashes African ghouls in London.
SPLATTER HALL OF FAME "Cannibal Ferox"
Note: All transactions are secure and executed through our merchant partners at Ecwid and Paypal. No credit card or personal information is ever stored on the Fangoria website server at any time.