Store
NOTE: The shipping method you choose does not account for the time to process your order, which in some cases could take up to 1-2 weeks depending upon the availability of the product. Ship times are not an accurate estimate of when you should expect to receive your order; they reflect only the time it takes to ship your package by the selected carrier. PLEASE DOUBLE CHECK YOUR ADDRESS TO ENSURE THAT IT IS CORRECT.
GOREZONE #28
00077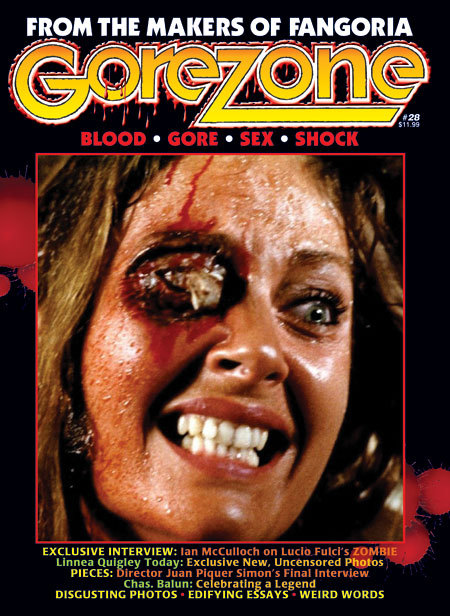 GOREZONE #28, the first issue in our resuscitation of FANGORIA's sister publication, sports the eye-impaled victim from Lucio Fulci's classic ZOMBIE up front, tied to a new interview with the film's star, Ian McCulloch. Also offered within is a massive (eight-page!) never-before-published interview with the late Spanish director Juan Piquer Simon on his chainsaw carve-up PIECES, a new chat and uncensored six-page pictorial with enduring scream queen Linnea Quigley, the first installments of new columns by Video Watchdog Tim Lucas and splattermeister Tom Savini, a tribute to Chas. Balun and much more.
BLOOD FEST Reintroducing: GOREZONE!
RETROSPECTIVE: "PIECES" A lengthy look back at the chainsaw cult classic with the late director Juan Piquer Simon.
TRIBUTE: CHAS. BALUN Filmmakers, writers and artists alike all welcomed his Pieces o' Mind.
PREVIEW: "SWITCHBLADE INSANE" SOVeteran Tim Ritter takes us behind the screams of his contribution to the "Hi-8" anthology shocker.
INTERVIEW: WALTER RUETHER He made "Death by VHS" for about the cost of a VCR back in the day.
TIM LUCAS: TALES FROM THE ATTIC There's still more to learn about the oeuvre of Jess Franco.
INTERVIEW: IAN McCULLOCH The British actor made three Italian-backed trips into the world of flesheaters and fanatics.
PREVIEW: "THE PROFANE EXHIBIT" Another omnibus flick gives FX favorite Sergio Stivaletti his latest turn in the director's chair.
INTERVIEW/PICTORIAL: LINNEA QUIGLEY With over 30 years in the horror biz, she's still going strong and looking good.
TOM SAVINI'S MAKEUP FX LAB How to serve up Bacon (Kevin) with extra red sauce.
REPORT: THE HOUSECORE HORROR FILM FESTIVAL Pantera's Philip H. Anselmo et al. bring macabre movies and music to the masses.
FICTION: "ART IS THE DEVIL" A tale of sexy girls and Satanism from the cerebrum of John Skipp.
SPLATTER HALL OF FAME "The Incredible Melting Man"
Note: All transactions are secure and executed through our merchant partners at Ecwid and Paypal. No credit card or personal information is ever stored on the Fangoria website server at any time.