Store
NOTE: The shipping method you choose does not account for the time to process your order, which in some cases could take up to 1-2 weeks depending upon the availability of the product. Ship times are not an accurate estimate of when you should expect to receive your order; they reflect only the time it takes to ship your package by the selected carrier. PLEASE DOUBLE CHECK YOUR ADDRESS TO ENSURE THAT IT IS CORRECT.
FANGORIA LEGENDS PRESENTS GEORGE A. ROMERO
00072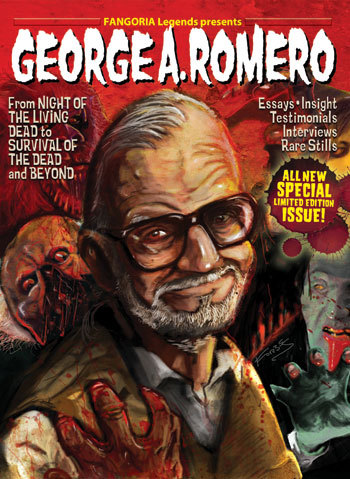 Our tribute to the zombie master contains essays on every one of his horror features, from NIGHT OF THE LIVING DEAD to SURVIVAL OF THE DEAD, plus interviews with key collaborators (John Russo, FX wiz Tom Savini, actors John Amplas, Lynn Lowry and Debbie Rochon, etc.), examinations of how his movies were marketed and their impact on popular culture, words from the man himself and more. To order your copy, click here.
THE LATENT IMAGE John Russo remembers how the terrifying teamup began.
"NIGHT OF THE LIVING DEAD"
"NIGHT OF THE LIVING DEAD: 30TH ANNIVERSARY EDITION" The truth behind this version, Debbie Rochon says, isn't so scary.
"YEAR OF THE LIVING DEAD" A new documentary puts the ghouls in historical context.
"SEASON OF THE WITCH"
"THE CRAZIES"
LYNN LOWRY The actress was one of the Crazies-t of them all.
"MARTIN"
JOHN AMPLAS Romero's walking corpses are legion, but this actor portrayed his only vampire.
DONALD RUBINSTEIN He made music for undead feeding, revenge-taking and knightriding.
"DAWN OF THE DEAD"
DeWOLFE MUSIC Ain't it a "Gonk" in the head?
"KNIGHTRIDERS"
TOM SAVINI, PART ONE He leaped into his biggest acting role on a "Knightriders" motorcycle.
"CREEPSHOW"
JOHN HARRISON, PART ONE How the composer Creeped out audiences.
"DAY OF THE DEAD"
JOHN HARRISON, PART TWO Scoring the end of Romero's first trilogy.
"MONKEY SHINES"
"TWO EVIL EYES"
TOM SAVINI, PART TWO Looking back on his "Night of the Living Dead" remake.
"THE DARK HALF"
"BRUISER"
"LAND OF THE DEAD"
"DIARY OF THE DEAD"
"SURVIVAL OF THE DEAD"
THE WALKING DEADICATED While Zombie Walks are many, Romero made Toronto's an extra-special event.
SELLING THE UNDEAD A look at Romero poster art from around the world.
TRIBUTES Filmmakers and other horror folks homage the great man.
ROMERO'S NEW DAWN Final words from the director himself.
Note: All transactions are secure and executed through our merchant partners at Ecwid and Paypal. No credit card or personal information is ever stored on the Fangoria website server at any time.