Store
NOTE: The shipping method you choose does not account for the time to process your order, which in some cases could take up to 1-2 weeks depending upon the availability of the product. Ship times are not an accurate estimate of when you should expect to receive your order; they reflect only the time it takes to ship your package by the selected carrier.
PLEASE DOUBLE CHECK YOUR ADDRESS TO ENSURE THAT IT IS CORRECT.
HOLIDAY SHIPPING MESSAGE: Domestic orders must be placed no later than December 17th for them to arrive in time for Christmas. Orders placed after that date or internationally will not be guaranteed to arrive in time for the Christmas holiday.
ROB ZOMBIE
00109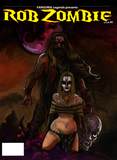 Special Issues
Price:
10.99
USD
In stock
The latest in our celebrated line of FANGORIA Legends limited-edition magazines is an examination of the films, music and wild world of the one and only Rob Zombie! Inside this special mag (only 2,000 copies to be printed, and shipping at the end of May), you'll find the mother of all Zombie interviews, a massive, no-holds-barred, oozing-warts-and-all career-spanning chat conducted by Trevor Parker that leaves no rock (or roll) unturned. Supporting that talk, you'll find tons of new interviews with Zombie alumni of every sort, as well as scads of ultra-rare (some never-before-published) photos handpicked by Zombie from his personal collection for this publication. And groove on the cover painting by our regular FANGORIA Legends artist Kelly Forbes!
FANGORIA Legends presents Rob Zombie is a gift to hardcore fans that will sell out fast. Pre-order your copy today here!
PLEASE NOTE: As a reminder, the Rob Zombie issue will not ship until the end of May. If you have other items in your shopping cart that you would like shipped before then, it is suggested that you place a separate order for these items so as not to delay delivery.