Store
NOTE: The shipping method you choose does not account for the time to process your order, which in some cases could take up to 1-2 weeks depending upon the availability of the product. Ship times are not an accurate estimate of when you should expect to receive your order; they reflect only the time it takes to ship your package by the selected carrier.
PLEASE DOUBLE CHECK YOUR ADDRESS TO ENSURE THAT IT IS CORRECT.
HOLIDAY SHIPPING MESSAGE: Domestic orders must be placed no later than December 17th for them to arrive in time for Christmas. Orders placed after that date or internationally will not be guaranteed to arrive in time for the Christmas holiday.
America Haunts
00074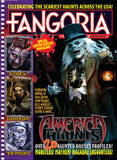 Special Issues
Here's a look at the cover our America Haunts special issue, a full-color FANGORIA salute to the country's most terrifying scary attractions!
Inside, you'll find over 20 haunts profiled, tons of outrageous photos and heartfelt words from horror-film alumni like Tom Savini, John Russo, Russ Streiner, Debbie Rochon and Elvira about the scariest moments they've had in and out of a haunted house. Plus a giant foldout poster, cinema's scariest haunted-house movies and the evolution of the haunted house.
This special edition was printed in a limited run, so get yours before they are gone...now get scared, already!