Store
NOTE: The shipping method you choose does not account for the time to process your order, which in some cases could take up to 1-2 weeks depending upon the availability of the product. Ship times are not an accurate estimate of when you should expect to receive your order; they reflect only the time it takes to ship your package by the selected carrier. PLEASE DOUBLE CHECK YOUR ADDRESS TO ENSURE THAT IT IS CORRECT.
FANGORIA® Issue #334
00119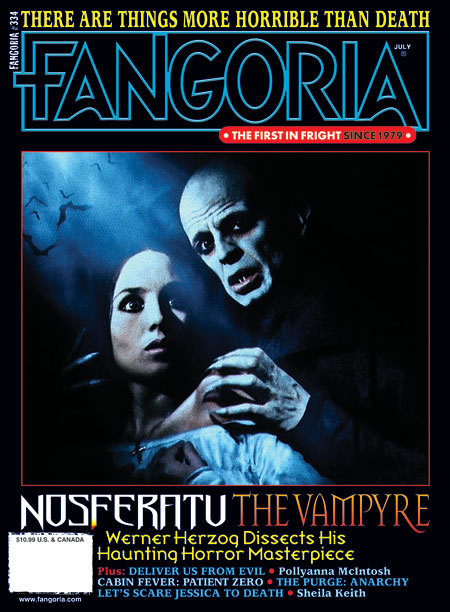 NOSFERATU THE VAMPYRE, Werner Herzog's remake of the silent-era classic, has endured for 35 years, and the great filmmaker sat down for an extensive, exclusive chat exploring all sides of the Klaus Kinski-starring masterpiece of mood. We've got a set visit to Scott (SINISTER) Derrickson's exorcism/detective thriller DELIVER US FROM EVIL; James DeMonaco on revisiting the ultimate night of crime in THE PURGE: ANARCHY; Bobcat Goldthwait recalling his Bigfoot-hunting trip to WILLOW CREEK; actress Pollyanna (THE WOMAN) McIntosh talking up her new genre projects; the directors of the independent horrors CABIN FEVER: PATIENT ZERO, THE HUMAN RACE, THE JUNGLE, WRATH OF THE CROWS, MY FAIR ZOMBIE and VAMPYRES; a Makeup FX Lab by monster master Gary J. Tunnicliffe on the creation of an ANIMAL; and much more. Head down past the cover for the full details, and click here to subscribe to FANGORIA!
GUTS
PICTORIAL: FANGO AT TEXAS FRIGHTMARE WEEKEND Our mag mavens mingled with gruesome guests and fevered fans.
PREVIEW: "THE PURGE: ANARCHY" Writer/director James DeMonaco paints a bigger canvas red in the violent sequel.
ON SET: "DELIVER US FROM EVIL" Investigate exorcisms with a real-life detective in the latest from Scott ("Sinister") Derrickson. Plus: How to "Deliver" demonic makeup FX.
PREVIEW: "WRATH OF THE CROWS" With filmmaker Ivan Zuccon in charge, being imprisoned with Debbie Rochon and Tiffany Shepis is a bleak prospect.
PREVIEW: "THE JUNGLE" The search for a rare species puts humans on the endangered list in Andrew Traucki's mood piece.
MAKEUP FX LAB: "ANIMAL" Gary J. Tunnicliffe made sure the Chiller film's threat was unmistakably unfriendly.
INTERVIEW: POLLYANNA McINTOSH Savage yet sympathetic in "The Woman," the actress brings different shadings to "Love Eternal" et al.
FEATURE: SHEILA KEITH, PART ONE How could such a kindly-looking woman be so cruel? Find out as we look back at the Brit actress' career in fright.
INTERVIEW: WERNER HERZOG There's no arguing that the German auteur's "Nosferatu" is a remake that got it right. Plus: Herzog goes burlesque!
MINIFEATURE: "VAMPYRES" Sexy suckers stalk male prey anew, this time in Spain for director Víctor Matellano.
PREVIEW: "CABIN FEVER: PATIENT ZERO" Skin is bared and flesh is eaten as Kaare Andrews brings the disease to the islands.
PREVIEW: "THE HUMAN RACE" It has one winner and 79 dead losers in Paul Hough's grueling competition shocker.
INTERVIEW: BENTLEY LITTLE Eschewing social media, he wins raves for novels about antisocial establishments and individuals.
MINIFEATURE: JOSHUA HOFFINE Turning from frightful photography to moving pictures, he sings a "Black Lullaby."
PREVIEW: "MY FAIR ZOMBIE" Etiquette becomes eat-iquette in Brett Kelly's twist on the classic musical.
INTERVIEW: ORVILLE STOEBER The multitalented music man said yes to the offer, "Let's score 'Jessica to Death.' "
PREVIEW: "WILLOW CREEK" Bobcat Goldthwait put on a straight face to tell a documentary-style Bigfoot tale.
GRAVY
FIRST RITES The romance of "Nosferatu"
POSTAL ZONE Readers slip us some opinions on "Skin"
MONSTER INVASION Previews of "The Signal" and "Joy Ride 3: Road Kill"
THE VIDEO EYE OF DR. CYCLOPS Reviews of Dan Curtis' "Dracula," "Sleepaway Camp," "Countess Dracula," "Almost Human" and others
Note: All transactions are secure and executed through our merchant partners at Ecwid and Paypal. No credit card or personal information is ever stored on the Fangoria website server at any time.