Store
NOTE: The shipping method you choose does not account for the time to process your order, which in some cases could take up to 1-2 weeks depending upon the availability of the product. Ship times are not an accurate estimate of when you should expect to receive your order; they reflect only the time it takes to ship your package by the selected carrier. PLEASE DOUBLE CHECK YOUR ADDRESS TO ENSURE THAT IT IS CORRECT.
FANGORIA® Issue #333
00114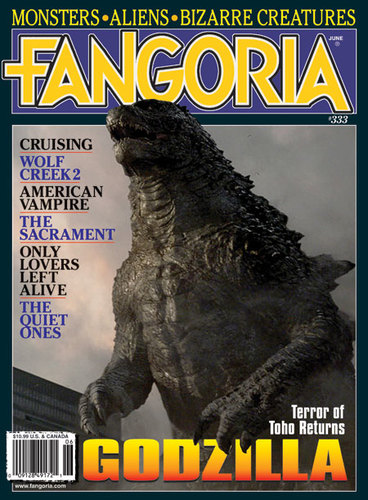 Way back in 1979, FANGORIA #1 put Godzilla up front, and we're doing the same, spotlighting the updated monster from Gareth Edwards' much-anticipated megabudget take on the Japanese classic. We've got a set visit and exclusive words from Edwards, along with a trip to the Aussie location of Greg McLean's WOLF CREEK 2; Jim Jarmusch and Tilda Swinton talking their cool new vampire movie ONLY LOVERS LEFT ALIVE; Ti West on his religious chiller THE SACRAMENT; Lucky McKee and Chris Sivertson explaining why ALL CHEERLEADERS DIE; ex-cop turned film guy Randy Jurgenson revealing the true facts behind William Friedkin's shocking CRUISING; director Jeremy Saulnier discussing his knockout revenge pic BLUE RUIN; and much more. Head down past the cover for the full details, and click here to subscribe to FANGORIA!
GUTS
INTERVIEW: JIM JARMUSCH The veteran poet of cinematic cool expresses his passion for vampires in "Only Lovers Left Alive."
INTERVIEW: TILDA SWINTON It took a one-of-a-kind actress to breathe new eternal life into her "Only Lovers" bloodsucker.
INTERVIEW: JOHN POGUE He ventured across the pond to helm the Hammer production "The Quiet Ones" on the studio's home turf. Plus: star Jared Harris speaks up.
PREVIEW: "PENNY DREADFUL" Victorian London plays host to classic creatures; can transplanted American Josh Hartnett cope?
PREVIEW: "THE SACRAMENT" Ti West leaves devils and ghosts behind to find the horror in religious manipulation.
INTERVIEW: HUH JUNG "Hide and Seek" allows the Korean director to reveal what spooks his fellow citizens.
PREVIEW: "BLUE RUIN" The way Jeremy Saulnier's intense thriller presents it, payback is a bitch for both sides.
ON SET: "GODZILLA" Fango tours the badly battered locations of Gareth Edwards' monster remake. Plus: reviews of classic Big G films on new Blu-rays!
PREVIEW: "THE MACHINE" It looks like a lady and tries to act like a human in Caradog W. James' near-future opus.
PREVIEW: "MALIGNANT" The protagonist of Brian Avenet-Bradley's latest indie chiller finds Brad Dourif literally messing with his head.
INTERVIEW: RANDY JURGENSEN The former policeman's input made William Friedkin's "Cruising" all the more arresting.
PREVIEW: "MR. JONES" Pry too deeply into his secrets, and you'll suffer for his art in Karl Mueller's surreal flick.
DIARY OF THE DEB: "BILLY'S CULT" On this New Jersey set, the terror would begin after Debbie wrapped for the day.
ON SET: "WOLF CREEK 2" Some people call tourists annoying; the villain of Greg McLean's sequel calls them targets.
PREVIEW: "ALL CHEERLEADERS DIE" Lucky McKee and Chris Sivertson rework their formative first feature as a meatier, bloodier project.
INTERVIEW: SCOTT SNYDER The comics writer is far from done telling the century-spanning saga of the "American Vampire."
INTERVIEW: TOM SPINA When you want a screen creature to look its best/worst again, he's the man you call.
GRAVY
FIRST RITES Growing up with Godzilla
POSTAL ZONE Bill Moseley says hi! Plus: remembering GWAR's David Brockie
MONSTER INVASION Preview of "Cold in July," and the 2014 Chainsaw Awards results!
TRASH COMPACTOR David A. Prior talks "Killer Workout"
THE VIDEO EYE OF DR. CYCLOPS Reviews of "Ms. 45," "The Visitor," "Dead Shadows," "Daddy's Little Girl" and others
DUMP BIN DIARIES Columbia River's "Psychopaths and Maniacs"
Note: All transactions are secure and executed through our merchant partners at Ecwid and Paypal. No credit card or personal information is ever stored on the Fangoria website server at any time.