Store
NOTE: The shipping method you choose does not account for the time to process your order, which in some cases could take up to 1-2 weeks depending upon the availability of the product. Ship times are not an accurate estimate of when you should expect to receive your order; they reflect only the time it takes to ship your package by the selected carrier. PLEASE DOUBLE CHECK YOUR ADDRESS TO ENSURE THAT IT IS CORRECT.
FANGORIA® Issue #330
00084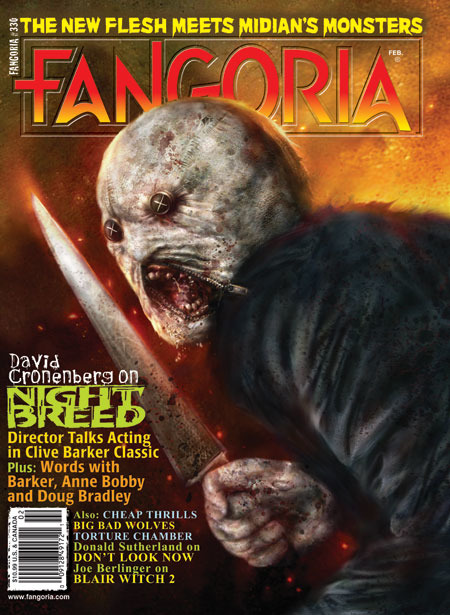 Next year, Barker's NIGHTBREED will reappear in its long-awaited Director's Cut, and we commissioned a special painted cover of David Cronenberg's hooded villain Dr. Decker from top artist Nick Percival, whose work has graced Barker's HELLRAISER comics and many others. Our 11 pages (!) of NIGHTBREED coverage within is headed by a major interview with Cronenberg on this and his other acting roles, followed by words with co-stars Anne Bobby and Doug Bradley, Barker himself and restoration partners Mark Miller and Russell Cherrington. In addition, we've got chats with the directors of the Israeli sensation BIG BAD WOLVES, the creative teams behind DEVIL'S DUE and CHEAP THRILLS, kickass heroines Sharni Vinson of YOU'RE NEXT and Zoë Bell of RAZE, Donald Sutherland recalling his work on Nicolas Roeg's classic DON'T LOOK NOW, indie auteur Dante Tomaselli on his new flick TORTURE CHAMBER, Joe Berlinger on the ill-fated BLAIR WITCH 2 saga and much more. Head down past the cover for the full details!
GUTS
INTERVIEW: DONALD SUTHERLAND When he traveled to Venice for Nicolas Roeg's "Don't Look Now," the result was a creepy classic. Plus: others from the actor's scary résumé.
RETROSPECTIVE: "PET SEMATARY," PART TWO More from Fango's man on the scene when Stephen King's best seller hit the screen.
PREVIEW: "DEVIL'S DUE" The mock-shockumentary from the Radio Silence collective is pregnant with possibilities.
PREVIEW: "CHEAP THRILLS": THE FILMMAKERS Director E.L. Katz and producer Travis Stevens pose a cinematic dare you'll want to take.
PREVIEW: "CHEAP THRILLS": THE CAST AND WRITERS Their collaborative effort reveals the darkest sides of human nature.
PREVIEW: "TORTURE CHAMBER" Surrealism rather than sadism is the hallmark of filmmaker Dante Tomaselli's latest outing.
PREVIEW: "RAZE" If you're looking for an actress to anchor a fighting-females flick, you can't beat Zoë Bell.
INTERVIEW: JACKIE KONG With little money but a lot of connections, she willed an '80s creature feature into "Being."
INTERVIEW: SHARNI VINSON When intruders attack in "You're Next," the Aussie actress battles right back.
PREVIEW: "BIG BAD WOLVES" Israeli auteurs Aharon Keshales and Navot Papushado dig deep into horrific crime and punishment.
INTERVIEW: DAVID CRONENBERG As serial-killing Dr. Decker, he brought human evil to the monster community of "Nightbreed." Plus: Doug Bradley recalls his days amidst the 'breed.
INTERVIEW: ANNE BOBBY More than 20 years after she first occupied Midian, the actress is back supporting its denizens.
INTERVIEW: CLIVE BARKER & MARK MILLER At long last, they're seeing "Nightbreed" released as Barker intended. Plus: Russell Cherrington on the restoration.
INTERVIEW: JOE BERLINGER It was "Paradise Lost" indeed for the documentarian when he took the helm of "Book of Shadows: Blair Witch 2."
INTERVIEW: BOB MURAWSKI With Grindhouse Releasing, he's bringing "Cannibal Holocaust" into the hi-def age. Plus: a survey of other flesheating favorites.
NOTES FROM THE UNDERGROUND: "REEL ZOMBIES" What happens when an indie undead shoot is invaded by the real thing?
WEIRD WORDS: "CREEPER" Our latest short-story entry explores love gone very, very wrong.
INTERVIEW: NICK PERCIVAL His painted nightmares have graced Fango covers, Barker and Marvel comics and more.
GRAVY
FIRST RITES When David met Clive
POSTAL ZONE On Roger, "Return" and retrospectives
MONSTER INVASION Previews of "Vampire Academy," "Hysterical Psycho" and "Darkroom," plus the 2014 FANGORIA Chainsaw Awards ballot!
THE VIDEO EYE OF DR. CYCLOPS Reviews of "We Are What We Are," "Cat People," "Toad Road" and others
NIGHTMARE LIBRARY Reviews of Nick Cutter's "The Troop," Weston Ochse's "Age of Blood" and Greydon Clark's "On the Cheap"
MONSTER OF THE MONTH Matthew Bennell in 1978's "Invasion of the Body Snatchers"
DUMP BIN DIARIES "Abbott and Costello Meet Frankenstein"
Note: All transactions are secure and executed through our merchant partners at Ecwid and Paypal. No credit card or personal information is ever stored on the Fangoria website server at any time.