Store
NOTE: The shipping method you choose does not account for the time to process your order, which in some cases could take up to 1-2 weeks depending upon the availability of the product. Ship times are not an accurate estimate of when you should expect to receive your order; they reflect only the time it takes to ship your package by the selected carrier. PLEASE DOUBLE CHECK YOUR ADDRESS TO ENSURE THAT IT IS CORRECT.
FANGORIA® Issue #327
00076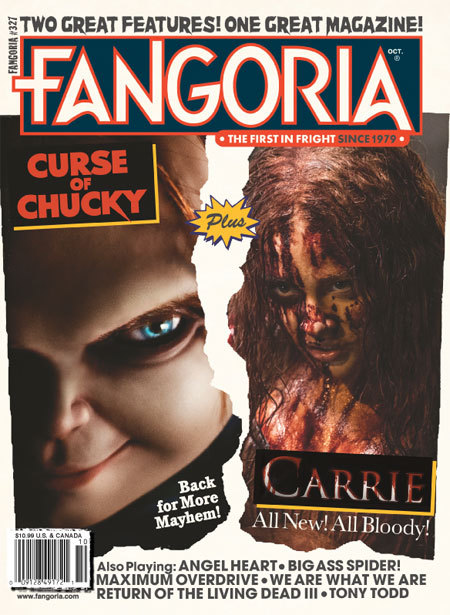 Two fright favorites return this fall, so we decided to split the cover between them (hope they're not mad about sharing…). On one side is everyone's favorite deadly doll from CURSE OF CHUCKY; we've got chats with Don Mancini, series creator and writer/director of the new sequel, and Fiona Dourif, CURSE star and daughter of Chucky voicer Brad. On the other is the new screen take on Stephen King's CARRIE, for which we spoke to stars Chloë Grace Moretz and Julianne Moore. We've also got words with original CHILD'S PLAY and CARRIE actresses Catherine Hicks and Piper Laurie; director Jim (STAKE LAND) Mickle on his terrific cannibalism chiller WE ARE WHAT WE ARE; a visit to the set of Vincenzo (SPLICE) Natali's ghost story HAUNTER; part two of our look back at John Landis' THRILLER; FALLING ANGEL author William Hjortsberg on his book's translation to the cult classic ANGEL HEART; a 20th-anniversary retrospective on RETURN OF THE LIVING DEAD III; and much more. Head down past the cover for the full details!
GUTS
MINIFEATURE: FANGORIA'S "HATCHET III" SCREENING Danielle Harris joined the fun in Toronto.
INTERVIEW: WILLIAM HJORTSBERG The novelist's "Falling Angel" found screen infamy as "Angel Heart." Plus: an appreciation of the film.
PREVIEW: "WE ARE WHAT WE ARE" Cannibalism hits the Catskills as Jim ("Stake Land") Mickle crafts one of the best recent remakes.
RETROSPECTIVE: "RETURN OF THE LIVING DEAD III" Love led to the ultimate sacrifice in Brian Yuzna's zombie sequel.
RETROSPECTIVE: "THRILLER," PART TWO As decomposing bodies danced, famous faces turned up on the set.
INTERVIEW: TONY TODD The man who was Candyman now ventures into "Dead of the Nite."
INTERVIEW: HERMAN YAU The Hong Kong director's "Untold Story" and "Ebola Syndrome" were in a Category all their own.
PREVIEW: "CURSE OF CHUCKY" Creator Don Mancini brings the deadly doll back to his scary roots. Plus: star Fiona Dourif on continuing the "Chucky" family tradition, and original "Child's Play" heroine Catherine Hicks speaks.
PREVIEW: "CARRIE" Chloë Grace Moretz ensures that no one's gonna laugh at her. Plus: Julianne Moore on her mean mother, and the remake scripter's "Afterlife With Archie" comic.
INTERVIEW: PIPER LAURIE Brian De Palma's "Carrie" lured the Oscar-nominated actress out of self-imposed retirement.
FEATURE: THE "MAXIMUM OVERDRIVE" GOBLIN HEAD The showstopper from Stephen King's flick keeps on truckin'.
MINIFEATURE: "XEROX FEROX" A celebration of the days when love—and criticism—of horror had to be shared by snail mail.
ON SET: "HAUNTER" Ghosts both good and bad inhabit the home where Vincenzo Natali's latest chiller is set.
MINIFEATURE: IAIN BANKS  The genre scene has suffered a tragic loss of an author who defied categorization.
PREVIEW: "MARS ATTACKS: INVASION" A fresh take on the classic extraterrestrial-assault saga is in the cards.
PREVIEW: "BIG ASS SPIDER!" Director Mike Mendez believes it's time for a giant-monster saga that's intentionally funny.
INTERVIEW: KIRK HAMMETT On stage he's part of Metallica; off, he's a major collector of horror esoterica.
MINIFEATURE: JENNY HVAL "Innocence is Kinky" to the avant-garde Norwegian musician.
INTERVIEW: WALTER HILL In 1981, the action veteran gave audiences a grisly, harrowing shot of "Southern Comfort."
GRAVY
FIRST RITES Learning to love the monstrous
POSTAL ZONE Tragic cinema and sad losses
MONSTER INVASION Previews of "+1," "Muirhouse," the "Fear Clinic" movie and "Antisocial"
CRYPT LIT Looking back at Stephen King's original "Carrie" novel
MONSTER OF THE MONTH Chris Hargensen from "Carrie"
THE VIDEO EYE OF DR. CYCLOPS Reviews of Criterion's "The Devil's Backbone," "The Incredible Melting Man," "The Feed," "Inbred" and others
NIGHTMARE LIBRARY Reviews of Gunnar Hansen's "Chain Saw Confidential" and Jovanka Vuckovic's "Vuckovic's Horror Miscellany"
TRASH COMPACTOR Rick Baker's early critter: "Octaman"!
DUMP BIN DIARIES Echo Bridge's "Midnight Horror Collection Vol. 11"
Note: All transactions are secure and executed through our merchant partners at Ecwid and Paypal. No credit card or personal information is ever stored on the Fangoria website server at any time.