Store
NOTE: The shipping method you choose does not account for the time to process your order, which in some cases could take up to 1-2 weeks depending upon the availability of the product. Ship times are not an accurate estimate of when you should expect to receive your order; they reflect only the time it takes to ship your package by the selected carrier. PLEASE DOUBLE CHECK YOUR ADDRESS TO ENSURE THAT IT IS CORRECT.
FANGORIA® Issue #326
00073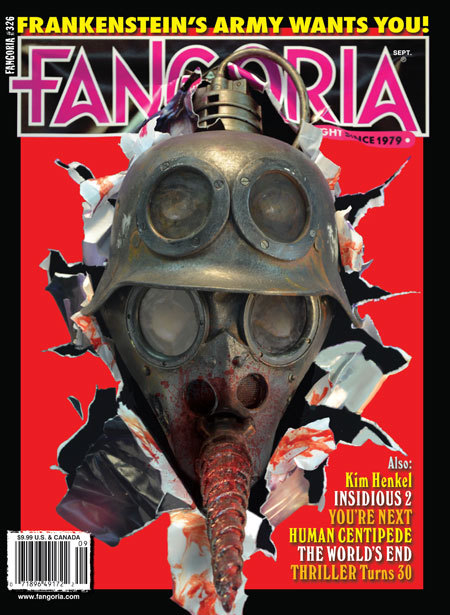 We're headlining FRANKENSTEIN'S ARMY this issue, and director Richard Raaphorst did a special photo shoot to allow his Mosquito character to rip through our front and into your face. In addition to words with Raaphorst and ARMY monster master Rogier Samuels with exclusive photos, we've got interviews with James Wan on his hotly anticipated sequel INSIDIOUS: CHAPTER 2; Adam Wingard and Simon Barrett talking up their knockout home-invasion shocker YOU'RE NEXT; Edgar Wright and Simon Pegg previewing the apocalyptic horror/comedy THE WORLD'S END; TEXAS CHAINSAW co-creator Kim Henkel unveiling his new Lone Star frightfest BONEBOYS; a 30th-anniversary look back at the MTV horror classic THRILLER with John Landis and the FX team; actor Laurence R. Harvey on the second and upcoming third HUMAN CENTIPEDE flicks; and much more. Head down past the cover for the full details!
GUTS
MINIFEATURE: FANGORIA'S "MANIAC" SCREENING There was no need to scalp tickets for our Elijah Wood-starring event.
PREVIEW: "INSIDIOUS: CHAPTER 2" James Wan returns to the scene of his horror hit for more family spookery.
INTERVIEW: JOSEPH BISHARA He's perfected the art of terrifying noise in "The Conjuring" and the "Insidious" duo.
PREVIEW: "YOU'RE NEXT" Director Adam Wingard and scripter Simon Barrett have built a better home-invasion picture. Plus: Larry Fessenden and Ti West on their ill-fated roles.
PREVIEW: "JUG FACE" A community in thrall to terrifying tradition is explored by Chad Crawford Kinkle's debut feature.
PREVIEW: "BONEBOYS" "Texas Chainsaw" co-creator Kim Henkel introduces a new strain of Lone Star savagery. Plus: co-director Duane Graves talks.
INTERVIEW: E. ELIAS MERHIGE There's never been anything before or since like his surreal, allegorical "Begotten."
RETROSPECTIVE: "THRILLER," PART ONE Michael Jackson, John Landis and Rick Baker teamed for groundbreaking MTV monstrousness.
INTERVIEW: TOM HOLLAND When he hired Roddy McDowall for "Fright Night," the actor brought decades of experience and knowledge with him.
PREVIEW: "FRANKENSTEIN'S ARMY": RICHARD RAAPHORST Mad science meets the military, and the results are truly shocking.
PREVIEW: "FRANKENSTEIN'S ARMY": THE FX Rogier Samuels and his crew brought something truly Unreal to the screen.
INTERVIEW: LAURENCE R. HARVEY The actor who built a longer "Human Centipede" speaks up about his wordless role.
PREVIEW: "CHANTHALY" Laos isn't known for horror or independent cinema, but filmmaker Mattie Do plans to change that.
ON SET: "SOULMATE" The spirit may be willing when Axelle Carolyn takes a romantic approach to the ghost genre.
MINIFEATURE: UDO KIER The accent was on sex and violence in his 1976 vehicle "House on Straw Hill."
FEATURE: "GERM Z" Ingenuity as well as zombies run amok in this FANGORIA Presents bloodfest.
PREVIEW: "CORPSING" Another of our new releases pulls a further twisted variation on the Frankenstein story.
INTERVIEW: DANIELE SERRA Comics and literature have inspired him to create memorable painted images.
PREVIEW: "THE MORTAL INSTRUMENTS: CITY OF BONES" The YA best seller provided the skeleton for director Harald Zwart's dark-magic adventure.
PREVIEW: "THE WORLD'S END" Edgar Wright and Simon Pegg continue to be drunk on the possibilities of combining humor with the horrific.
GRAVY
FIRST RITES Freaking for "Frankenstein"
POSTAL ZONE Diaries pro and con
MONSTER INVASION Preview of "Schism"; the sounds of "Revenant"
THE VIDEO EYE OF DR. CYCLOPS Reviews of "American Mary," "Would You Rather," "Exhumed," "Dead Souls" and others
Note: All transactions are secure and executed through our merchant partners at Ecwid and Paypal. No credit card or personal information is ever stored on the Fangoria website server at any time.