Store
NOTE: The shipping method you choose does not account for the time to process your order, which in some cases could take up to 1-2 weeks depending upon the availability of the product. Ship times are not an accurate estimate of when you should expect to receive your order; they reflect only the time it takes to ship your package by the selected carrier. PLEASE DOUBLE CHECK YOUR ADDRESS TO ENSURE THAT IT IS CORRECT.
FANGORIA® Issue #325
00071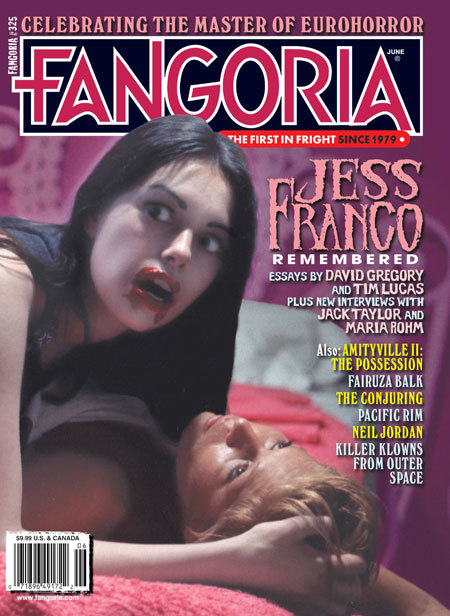 Up front this ish is one of the sexy but deadly vampires of Jess Franco, the Spanish cult-fave filmmaker who passed away earlier this year. Our special tribute to the man includes essays by horror historians David Gregory and Tim Lucas and interviews with two of Franco's favorite actors, Jack Taylor and Maria Rohm. We've also got an exclusive chat with Guillermo del Toro on his monster/robot epic PACIFIC RIM, a preview of James Wan's THE CONJURING with actress Lili Taylor, Neil Jordan talking his modern vampire film BYZANTIUM, interviews with the V/H/S/2 directors, a visit to the set of Larry Fessenden's BENEATH, a sit-down with actress Fairuza Balk, Burt Young recalling AMITYVILLE II: THE POSSESSION, the stars of KILLER KLOWNS FROM OUTER SPACE and much more. Head down past the cover for the full details!
GUTS
INTERVIEW: FAIRUZA BALK There's more to the "Craft" and "Dr. Moreau" actress than her piercing screen persona. Plus: Director Andrew Fleming recalls "The Craft."
PREVIEW: "THE CONJURING" James Wan's follow-up to "Insidious" plunges actress Lili Taylor into fact-based frights.
INTERVIEW: BURT YOUNG In "Amityville II: The Possession," he was the head of a horrified household. Plus: Diane Franklin on the movie's occult incest.
PREVIEW: "PACIFIC RIM" It's where Guillermo del Toro let all his love for kaiju classics hang out. Plus: "The Devil's Backbone" goes Criterion.
PREVIEW: "GRABBERS" You have to get in the right spirits to battle the rapacious alien critters of scripter Kevin Lehane's horror/comedy.
ON SET: "BENEATH" Returning to TV terror, director Larry Fessenden has a hell of a fish story to share.
FEATURE: "NIGHT OF THE LIVING DEAD LIVE" You really believed they were coming to get you when Romero's zombies took the stage.
INTERVIEW: NEIL JORDAN The Oscar-winning filmmaker returns to his Irish and supernatural roots with "Byzantium." Plus: A quick "Interview" with Anne Rice.
FEATURE: REMEMBERING JESS FRANCO, PART ONE Producing the director's DVDs gave David Gregory intimate access to the man himself.
FEATURE: REMEMBERING JESS FRANCO, PART TWO Tim Lucas helped popularize the Spanish auteur while discovering him. Plus: A backyard Franco-fest!
INTERVIEW: JACK TAYLOR Playing good or bad, he was a constant in Franco's supernatural and sexy features.
INTERVIEW: MARIA ROHM The leading lady of many Franco flicks remembers the director and her legendary co-stars.
RETROSPECTIVE: "KILLER KLOWNS FROM OUTER SPACE" Young actors Grant Cramer and Suzanne Snyder lightened up to confront bloodthirsty Bozos.
RETROSPECTIVE: WILLIAM CASTLE With his oddball "Shanks" on disc at last, here's a revisit to a great, gimmicky career.
FEATURE: "V/H/S/2" Tighter and more terrifying, the sequel offers new varieties of handheld (and headheld) horror.
INTERVIEW: PAUL KANE Taking initial cues from Clive Barker, he's become an acclaimed author in his own fright.
GRAVY
FIRST RITES The reign from Spain
POSTAL ZONE Heartfelt homages
MONSTER INVASION Previews of "Lord of Darkness," "Jug Face" and "The Expelled"
MONSTER OF THE MONTH "The Devil" from Jess Franco's "Devil Hunter"
THE VIDEO EYE OF DR. CYCLOPS Reviews of "Gut," "Hands of the Ripper," "Lifeforce," "Ninja III: The Domination" and others
NIGHTMARE LIBRARY Reviews of Lauren Beukes' "The Shining Girls" and editor Richard Chizmar's "Shivers VII"
SOUND SHOCK Steven Severin's new sounds for "Vampyr" et al.
DUMP BIN DIARIES Shout! Factory's "Action-Packed 4 Movie Marathon"
Note: All transactions are secure and executed through our merchant partners at Ecwid and Paypal. No credit card or personal information is ever stored on the Fangoria website server at any time.