Store
NOTE: The shipping method you choose does not account for the time to process your order, which in some cases could take up to 1-2 weeks depending upon the availability of the product. Ship times are not an accurate estimate of when you should expect to receive your order; they reflect only the time it takes to ship your package by the selected carrier.
One (1) Year Subscription to FANGORIA® Magazine
00000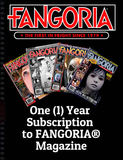 Subscriptions
Price:
64.47
USD
In stock
10 issues per year, all the horror sent right to your front door!
Shipping times may vary. Please allow 4-6 weeks for the delivery of your first issue.