Store
NOTE: The shipping method you choose does not account for the time to process your order, which in some cases could take up to 1-2 weeks depending upon the availability of the product. Ship times are not an accurate estimate of when you should expect to receive your order; they reflect only the time it takes to ship your package by the selected carrier.
PLEASE DOUBLE CHECK YOUR ADDRESS TO ENSURE THAT IT IS CORRECT.
HOLIDAY SHIPPING MESSAGE: Domestic orders must be placed no later than December 17th for them to arrive in time for Christmas. Orders placed after that date or internationally will not be guaranteed to arrive in time for the Christmas holiday.
FANGORIA® Issue #323
00067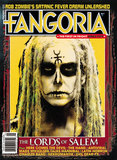 Back Issues
That's THE LORDS OF SALEM, Rob Zombie's much-awaited new movie that marks a new direction for his big-screen terrors. We have lengthy, exclusive chat with the man about LORDS, and he talks up his new album as well. Elsewhere in the mag, we have a major focus on the new, exciting wave of Latin American horror, with interview features on Adrián García Bogliano's HERE COMES THE DEVIL, Nicolás López and Eli Roth's AFTERSHOCK and many more. Then there's an examination of the splattery FX of the new EVIL DEAD, a set visit to TV's HANNIBAL to talk the new Lecter with actor Mads Mikkelsen, Jörg Buttgereit speaking on the occasion of NEKROMANTIK's 25th anniversary and much more Head down past the cover for the full details!