Fangoria and Hollywood 360 bring you the greatest classic radio horror shows of all-time! Each and every week, make sure to log on to Fangoria.com to download a different horror show from radio's golden age selected by Carl Amari, the host of Hollywood 360. Hollywood 360 is a syndicated nostalgia and showbiz radio series heard on great radio stations from coast-to-coast. Carl has been licensing and collecting classic radio shows for more than 35 years and has amassed more than 45,000 episodes. Because Carl licenses classic radio shows from the original producers and estates, and is provided the master recordings, the sound quality of his classic radio library is superb. Visit Carl's Hollywood 360 website and make sure you tell your friends about this classic radio horror site!
FANGORIA CLASSIC RADIO:
THE WHISTLER
The Whistler was one of radio's top mystery programs airing from May 16, 1942 until September 22, 1955 sponsored by the Signal Oil Company. The Whistler was an ominous narrator who opened each episode with: I am the Whistler, and I know many things, for I walk by night. I know many strange tales, many secrets hidden in the hearts of men and women who have stepped into the shadows. I know the nameless terrors of which they dare not speak. The opening dialog was heard over the echo of footsteps and Wilbur Hatch's haunting signature 13-note theme, whistled each week by Dorothy Roberts. The stories followed an effective formula in which a person's criminal acts were typically undone by their own missteps. The Whistler narrated, often commenting directly upon the action in the manner of a Greek chorus, taunting the criminal from an omniscient perspective. One of the show's trademarks was the ironic twist endings that helped serve as a payoff for the listener. Bill Forman had the title role of host and narrator the longest. Others who portrayed the Whistler included: Gale Gordon (Lucille Ball's future television nemesis), Joseph Kearns (Mr. Wilson on TV series Dennis the Menace), Marvin Miller (soon to be television's Michael Anthony on The Millionaire), Bill Johnstone (The Shadow on radio from 1938-1943) and Everett Clarke.
"Juggernaut" (originally broadcast 6/9/47)
A portrait of mob violence and "Uncle Josh," the most beloved citizen in town. However, Josh has his own secret motives! Herb Butterfield, Wilbur Hatch (music), Marvin Miller (announcer), George W. Allen (producer), Joel Malone (writer), Harold Swanton (writer). Spon. by Signal Oil. CBS. Approx. 30 min.
Click the text to start playing, click again to pause:
[mp3t track="http://www.fangoria.com/Radio_Downloads/2014_05_26 – 2014_06_01/The_Whistler_Juggernaut_1947_06_09.mp3″]
* This episode of "The Whistler" is only available to download 5/26/14 through 6/1/14. Next week make sure to come back to download "The Mysterious Traveler."
Purchase this product at a special discount: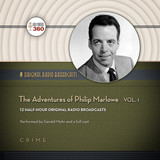 THE ADVENTURES OF PHILIP MARLOWE Volume 1 (6 CDs in a collector case)
$24.95

Raymond Chandler's celebrated hardboiled private eye, Philip Marlowe, made his radio debut in 1945 on The Lux Radio Theatre with "Murder My Sweet" starring Dick Powell. Two years later, NBC would bring the character to the air in his own weekly series starring Van Heflin in "The New Adventures of Philip Marlowe." A summer replacement for The Bob Hope Show, the series was short-lived, ending September 9th, 1947. CBS revived it in 1948 with "The Adventures of Philip Marlowe" starring Gerald Mohr as Marlowe. With Producer/Director Norman Macdonnell at the helm, the series captured the largest audience in radio by 1949. Scripts were by Gene Levitt, Robert Mitchell, Mel Dinelli and Kathleen Hite. While Chandler's distinctive similes were largely lacking, the strong, dry, sarcastic narration was there, and the way Mohr delivered his lines made you forget they weren't written by Chandler. Supporting Mohr, were radio's best, including Howard McNear, Parley Baer, Lawrence Dobkin, Virginian Greg and Lou Krugman. One of the best detective shows on the air, it lasted until 1951.