Fangoria and Hollywood 360 bring you the greatest classic radio horror shows of all-time! Each and every week, make sure to log on to Fangoria.com to download a different horror show from radio's golden age selected by Carl Amari, the host of Hollywood 360. Hollywood 360 is a syndicated nostalgia and showbiz radio series heard on great radio stations from coast-to-coast. Carl has been licensing and collecting classic radio shows for more than 35 years and has amassed more than 45,000 episodes. Because Carl licenses classic radio shows from the original producers and estates, and is provided the master recordings, the sound quality of his classic radio library is superb. Visit Carl's Hollywood 360 website and make sure you tell your friends about this classic radio horror site!
FANGORIA CLASSIC RADIO:
THE CLOCK
The Clock was a mystery series that cast "time" in the role of the narrator. William Conrad, Charles Webster, Harp McGuire and others voiced The Clock making many observations about how time affected people's lives. The plots usually involve people in some sort of trouble or danger, which was then milked for the maximum amount of suspense that each situation could deliver. The series actually originated in England and then immigrated to New York after it picked up the interest of ABC officials. It stayed in New York for most its run, and then moved to Hollywood for the last 13 episodes. Lawrence Klee was the writer and Clark Andrews was the director in New York. William Spier directed after the Hollywood move. Despite the somewhat trite clock theme, the actual plots created tension, and were very similar to Suspense and Escape.
"The Past Or Present" (originally broadcast 2/14/56)
Starring Harp McGuire (The Clock), Don Crosby, Anna Dobb, Myme Dodd, Shiela Sewell, Ruth Cracknell and Leonard Teale. Madame Baba, the fortune-teller, warns a client about the color red. (approx. 30 min.)
Click the text to start playing, click again to pause:
Play
* This episode of "The Clock" is only available to download 4/7/14 through 4/13/14. Next week make sure to come back to download "Suspense."
Purchase this product at a special discount: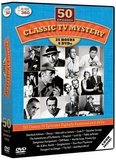 CLASSIC TV'S MYSTERY & DETECTIVE FAVORITES (50 shows on 6 DVDs)
$39.99
Your All-time Favorite Mystery & Detective TV Episodes from the 50s and 60s – Digitally Restored!
Relive that era with this 6-DVD collector's set featuring 50 of your all-time favorite mystery & detective TV episodes from the 1950s and 60s! See popular and rare episodes, and tons of legendary stars in 25 hours of digitally restored classic TV!