Fangoria and Hollywood 360 bring you the greatest classic radio horror shows of all-time! Each and every week, make sure to log on to Fangoria.com to download a different horror show from radio's golden age selected by Carl Amari, the host of Hollywood 360. Hollywood 360 is a syndicated nostalgia and showbiz radio series heard on great radio stations from coast-to-coast. Carl has been licensing and collecting classic radio shows for more than 35 years and has amassed more than 45,000 episodes. Because Carl licenses classic radio shows from the original producers and estates, and is provided the master recordings, the sound quality of his classic radio library is superb. Visit Carl's Hollywood 360 website and make sure you tell your friends about this classic radio horror site!
FANGORIA CLASSIC RADIO:
THE WHISTLER
The Whistler was one of radio's top mystery programs airing from May 16, 1942 until September 22, 1955 sponsored by the Signal Oil Company. The Whistler was an ominous narrator who opened each episode with: I am the Whistler, and I know many things, for I walk by night. I know many strange tales, many secrets hidden in the hearts of men and women who have stepped into the shadows. I know the nameless terrors of which they dare not speak. The opening dialog was heard over the echo of footsteps and Wilbur Hatch's haunting signature 13-note theme, whistled each week by Dorothy Roberts. The stories followed an effective formula in which a person's criminal acts were typically undone by their own missteps. The Whistler narrated, often commenting directly upon the action in the manner of a Greek chorus, taunting the criminal from an omniscient perspective. One of the show's trademarks was the ironic twist endings that helped serve as a payoff for the listener. Bill Forman had the title role of host and narrator the longest. Others who portrayed the Whistler included: Gale Gordon (Lucille Ball's future television nemesis), Joseph Kearns (Mr. Wilson on TV series Dennis the Menace), Marvin Miller (soon to be television's Michael Anthony on The Millionaire), Bill Johnstone (The Shadow on radio from 1938-1943) and Everett Clarke.
"Mavis Cameron Disappears" (originally broadcast 3/17/47)
Starring Isabel Jewell and Tony Barrett. A woman office worker gets her big chance to meet the "right people". She becomes involved in a robbery and murder at a sandwich shop and makes a pact with the killer. Bill Forman is heard as The Whistler. Marvin Miller (ann). Spon. by Signal Oil. CBS. (Approx 30 min.)
Click the text to start playing, click again to pause:
Play
* This episode of "The Whistler" is only available to download 2/24/14 through 3/2/14.
Purchase this product at a special discount: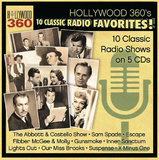 10 Classic Radio Shows on 5 CDs
$9.99
Reg. Price: $19.99