Fangoria and Hollywood 360 bring you the greatest classic radio horror shows of all-time! Each and every week, make sure to log on to Fangoria.com to download a different horror show from radio's golden age selected by Carl Amari, the host of Hollywood 360. Hollywood 360 is a syndicated nostalgia and showbiz radio series heard on great radio stations from coast-to-coast. Carl has been licensing and collecting classic radio shows for more than 35 years and has amassed more than 45,000 episodes. Because Carl licenses classic radio shows from the original producers and estates, and is provided the master recordings, the sound quality of his classic radio library is superb. Visit Carl's Hollywood 360 website and make sure you tell your friends about this classic radio horror site!
FANGORIA CLASSIC RADIO:
CRIME CLASSICS
Crime Classics was a radio docudrama that premiered in 1953 and lasted one season. Created, produced, and directed by radio actor/director Elliott Lewis, the program was a historical true crime series, examining crimes and murders from the past. It grew out of Lewis' personal interest in famous murder cases and took a documentary-like approach to the subject, carefully recreating the facts, personages and feel of the time period. Very little dramatic license was taken with the facts and events, but the tragedy was leavened with humor, expressed largely through the narration. The crimes dramatized covered a broad time (and place) frame from ancient Greece to late 19th-century America. Each episode in the series was co-written by Morton Fine and David Friedkin (in consultation with Lewis) although the scripting process was more a matter of research, as the stories were "adapted from the original court reports and newspaper accounts" or from the works of historians. The only continuing character was the host/narrator, Thomas Hyland, played by Lou Merrill. Hyland was introduced as a "connoisseur of crime, student of violence, and teller of murders." Merrill's deadpan portrayal of Hyland provided a welcome note of tongue-in-cheek humor to the proceedings. Alfred Hitchcock's favorite composer Bernard Herrmann scored the series, capturing the sound and feel of the various time periods simply but elegantly, often with the use of only two or three instruments per episode.
"The Bloody, Bloody Banks of Fall River" (originally broadcast 9/30/53)
Starring Irene Tedrow, Jeanette Nolan, Herb Butterfield, Betty Harford, Sarah Selby, William Johnstone and Paul Frees. Lou Merrill is heard as 'our host, Thomas Hyland.' What happened at 92nd Street on a hot summer's evening in 1892. Since Lizzie was acquitted, who killed Mr. and Mrs. Borden? Elliott Lewis (producer, director), Morton Fine & David Friedkin (writers), Bernard Herrmann (composer, conductor). Sustaining. Bob Lemond (announcer) CBS. (Approx 30 min.)
Click the text to start playing, click again to pause:
Play
* This episode of "Crime Classics" is only available to download 3/10/14 through 3/16/14. Next week make sure to come back to download "Suspense."
Purchase this product at a special discount: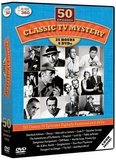 CLASSIC TV'S MYSTERY & DETECTIVE FAVORITES (50 shows on 6 DVDs)
$39.99
Your All-time Favorite Mystery & Detective TV Episodes from the 50s and 60s – Digitally Restored!
The world was a different place when Jack Webb as Sgt. Joe Friday and Ronald Howard as Sherlock Holmes solved crime cases on the small screen. Relive that era with this 6-DVD collector's set featuring 50 of your all-time favorite mystery & detective TV episodes from the 1950s and 60s! See popular and rare episodes, and tons of legendary stars in 25 hours of digitally restored classic TV!