Fangoria and Hollywood 360 bring you the greatest classic radio horror shows of all-time! Each and every week, make sure to log on to Fangoria.com to download a different horror show from radio's golden age selected by Carl Amari, the host of Hollywood 360. Hollywood 360 is a syndicated nostalgia and showbiz radio series heard on great radio stations from coast-to-coast. Carl has been licensing and collecting classic radio shows for more than 35 years and has amassed more than 45,000 episodes. Because Carl licenses classic radio shows from the original producers and estates, and is provided the master recordings, the sound quality of his classic radio library is superb. Visit Carl's Hollywood 360 website and make sure you tell your friends about this classic radio horror site!
FANGORIA CLASSIC RADIO:
THE MYSTERIOUS TRAVELER
The Mysterious Traveler was created, written and directed by Robert A. Arthur and David Kogan. It came to Mutual radio in 1943. The lonely sound of a distant locomotive heralded the arrival of the ominous narrator known only as The Mysterious Traveler. Each week, Maurice Tarplin as "The Mysterious Traveler" invited us to join him on another journey into the strange and terrifying. He hoped that we would enjoy the trip – that it would thrill us a little and chill us a little. The series was produced in New York and included New York's best supporting players: Jackson Beck, Lon Clark, Elspeth Eric, Lawson Zerbe and Luis Van Rooten. Although The Mysterious Traveler never made the transition to television, it did spawn a magazine and a comic book.
"The Accusing Corpse" (originally broadcast 4/16/44)
Starring Maurice Tarplin (as "The Traveler"), Don Randolph and Phillip Clarke. A journey to the grave to learn the secrets of the dead. An old scam leads to an accusation by a dead body. Sustaining. Mutual. (approx 30 min.)
Click the text to start playing, click again to pause:
Play
* This episode of "The Mysterious Traveler" is only available to download 4/21/14 through 4/27/14. Next week make sure to come back to download "Escape."
Purchase this product at a special discount: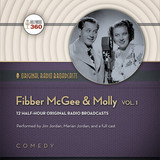 FIBBER McGEE & MOLLY Volume 1 on 6 CDs
$24.95
was $29.99
Fibber McGee & Molly had a long and successful run on radio (1935-1959). The program showcased terrific comic and musical talent, headlined by its creators and stars, married couple Jim and Marian Jordan. Living in the fictional Midwestern city of Wistful Vista, Fibber was an American teller of tall tales and a braggart, usually to the exasperation of his long suffering wife Molly.